No Shock Here. Best IPO Of 2018 Is A Two-Month Old Pot Purveyor
(Bloomberg) -- Less than two months after going public, a Canadian cannabis stock has surpassed nearly 200 other companies to become the year's best performing initial public offering on U.S. exchanges.
British Columbia-based Tilray Inc. has outperformed its marijuana-related peers amid a sector-wide rally this summer. Shares traded above $93 on Wednesday, up 447 percent from their $17 IPO price in July. The North American Marijuana Index, or NAMMAR, has gained 31 percent over that same period.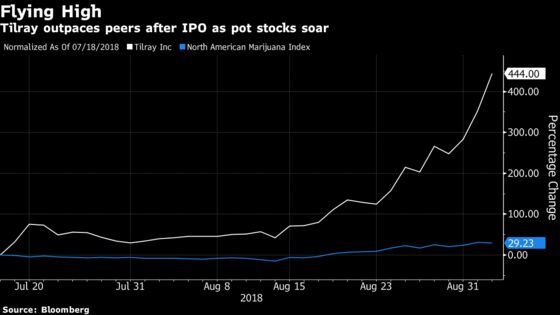 Tilray's 26 percent jump on Wednesday pushed the stock past AGM Group Holdings Inc., a Beijing-based trading platform provider that's about 420 percent above its April 13 IPO price. Among companies worth at least $1 billion at their IPO, you'd have to go back to 2015 to find a new issue with better performance than Tilray. San Francisco-based fintech stock Square Inc. is trading 871 percent above its Nov. 2015 offering price.
With Tilray trading 83 percent above the average analyst price target, according to data compiled by Bloomberg, short interest has risen recently. Short interest as a percent of float sits at 18 percent, up from 10.8 percent at the beginning of August, according to financial analytics firm S3 Partners.