Halliburton Somehow Turns the Obvious Into a (Bad) Surprise
(Bloomberg Opinion) -- Halliburton Co. is in that most undesirable of pursuits known as putting your toe out into the void and looking for a floor.
The stock was down about 4.5 percent early afternoon on Wednesday after CEO Jeff Miller effectively unveiled a profit warning in remarks at a conference in New York. It's the biggest drop since July 23, when the company … effectively unveiled a profit warning. The consensus forecast for the third quarter dropped precipitously then and now looks set to fall another 15 percent or so: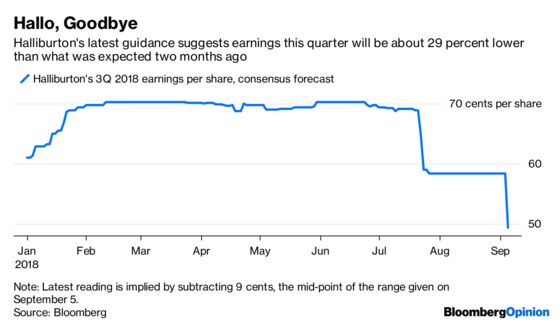 The reasons for this latest setback remain much the same as last time. Bottlenecks in the Permian basin have led to steep discounts on those oil barrels without access to pipelines. Consequently, producers are slowing the drilling and completion of wells, leading to "white space on the calendar," to use Halliburton's euphemism. Now it seems there's a bit more white space than seen in late July. A slower-than-expected start-up in some new contracts in the Middle East compounded the misery on Wednesday.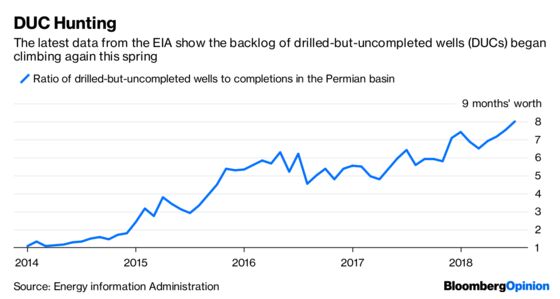 On both fronts, the difficulties should be temporary, with new pipelines easing the Permian's bottlenecks starting in late 2019. While that's only a year away, it's proving hard for investors to look through it for two reasons. First, Halliburton has delivered its bad news in increments only weeks apart, rather than a one-and-done approach. While that may reflect the simple fact that the situation in the Permian is fluid, investors are just as likely to think Halliburton either doesn't have its arms around the situation or is waiting until it's absolutely necessary to break bad news.
The second reason is more pernicious. The day before Miller took the stage, his counterpart at rival Schlumberger Ltd. laid out a more problematic thesis. Beyond mere pipeline problems, Paal Kibsgaard raised the issue of slowing productivity gains for Permian wells, casting doubt on the basin's growth potential, which is by now an article of faith in shale circles.
With its higher weighting to international drilling, Schlumberger can afford to talk up prospects elsewhere relative to the U.S. fracking business, where Halliburton is the bigger force (see this). Yet Halliburton's capitulation the very next day serves to lend weight to its rival's skepticism. The danger for its investors now is that the inevitable cuts to third-quarter earnings forecasts are paired with cuts to those further out; not merely because the near-dated cuts will set the base for growth lower, but because Schlumberger's doubts creep into assumptions.
Hence, Halliburton's search for a floor is best understood as a search for a compelling reason for investors to own it in the midst of such uncertainty. One candidate is the stock's discount to Schlumberger, which is at levels reached in the far darker days of 2016.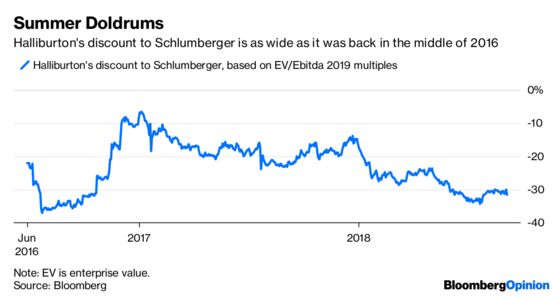 Another reason to own Halliburton gets back to Kibsgaard's point and something else Miller talked about on Wednesday. The Permian is, for better or worse, by far the biggest resource opportunity in the U.S. oil business, and finding better ways to tap it is a central mission of the companies operating there. As this gets tougher, as Kibsgaard talked about, fracking smarter, rather than relying merely on the brute force of longer lateral wells and more sand, becomes ever more important. Which is precisely where the bigger oilfield services firms like Schlumberger come in (always be closing, folks).
So, too, of course, does Halliburton. Hence, Miller was keen to talk about his company's Prodigi AB product on Wednesday, which essentially uses sensors and algorithms to enhance the completion process for those long horizontal shale wells, sucking more oil and gas out more quickly.
He was also talking his own book, of course. But there is no denying that the trends in shale development — be it the need to access reserves in a more sophisticated way as wells multiply or consolidation by bigger producers — favor the larger, more technically savvy contractors. Halliburton's struggling to find its footing right now, but the path forward looks clear enough.
This column does not necessarily reflect the opinion of the editorial board or Bloomberg LP and its owners.
Liam Denning is a Bloomberg Opinion columnist covering energy, mining and commodities. He previously was editor of the Wall Street Journal's Heard on the Street column and wrote for the Financial Times' Lex column. He was also an investment banker.