A Dunkin' Deal: Pros and Cons
(Bloomberg Opinion) -- As Dunkin' Brands Group Inc. tries to modernize and expand further beyond its deep Boston roots, the coffee-and-doughnut chain is also ripening for takeover bids. But the longer suitors wait, the more expensive it may get.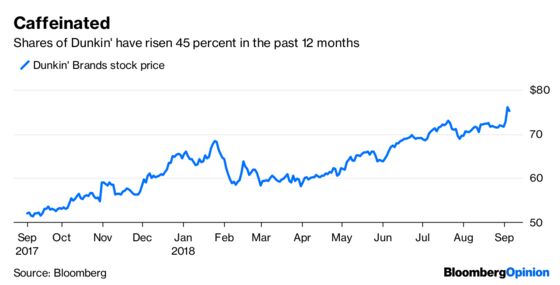 Shares of Dunkin', owner of Dunkin' Donuts, surged to a record this week on takeover speculation following Coca-Cola Co.'s $5.1 billion deal for the U.K.-based Costa Coffee chain. JAB Holding Co. has been scooping up other quick eateries in recent years, including Krispy Kreme Doughnuts, Panera Bread, Caribou Coffee and Pret A Manger, while Burger King and Tim Hortons merged in 2014 to form Restaurant Brands International Inc. The breakfast grab-and-go segment is a hot one for M&A, and Dunkin' stands out as the next most likely target. 
Still, here are pros and cons to a deal that Dunkin's would-be suitors need to consider:
Pro: 100% Franchised. Dunkin' is one of the most profitable restaurant chains in America, largely due to its structure. All of its locations are franchised, reducing costs for the parent company and making it a clean and appealing acquisition candidate. The caveat to this is franchisees may turn to price increases to offset higher labor costs and a decline in traffic that Dunkin' has been experiencing. But one way the company is trying to combat this is a national price campaign for certain menu items. In April, the chain launched a "Go2s" breakfast-sandwich promotion. Over the summer, it also introduced a $2 snacking menu that includes chicken tenders and pretzel bites as it tries to attract an afternoon crowd.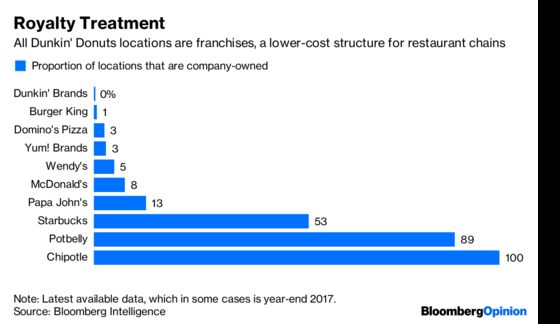 Con: Rigid brand identity. No brand's fans may be more delicate and stubborn when it comes to change than Dunkin' Donuts loyalists. So even as the company focuses on making changes to its menu and store experience to drive customers to spend more per visit and attract younger folks, it has to be careful about how it goes about doing it for fear of alienating core customers. It's not an easy task, and would be an even harder one for outsiders to take on should Dunkin' sell itself and experience management turnover. Here's a fascinating article about how Dunkin' spent 10 years studying ways to ditch foam cups, resulting in some locations and customers hoarding the old ones. When it tried bidding farewell to the Coffee Coolatta, fans again revolted and Huffington Post said the move was "basically ruining everything." Now Dunkin' is even testing out ditching the Donuts from its name to go with the fancy new store designs it's rolling out, another controversial idea even though its slogan has long been "America runs on Dunkin'." When a brand shifts from its niche and tries to reach everyone, it usually fails — so Dunkin' can't forget where it came from in the search for new growth opportunities. That somewhat limits any potential new owners from making transformative moves. 
Pro: Mobile Machine. Dunkin' has improved its mobile-ordering app and combined it with DD Perks, a way for regulars to earn free beverages. Franchises have quickly adapted to the system, and as the ease of its use catches on, this will likely drive traffic. Stores now need better counter space specifically designated for mobile pickup, and Dunkin's new store layouts address this. It will need to ramp up the roll out of new locations and remodelings to create a more complete mobile-ordering experience, but so far so good. 
Con: Price. While Dunkin' may be known for offering a good value on a cup o' Joe, its shares are quite expensive. The company is valued at about 19 times analysts' average Ebitda estimate for the future 12-month period, which is a 23 percent premium over Dunkin's average valuation for the last two years and the same premium over its peer group. Most analysts don't recommend buying the stock at this level. However, that does make it an opportune time for Dunkin's board to sell.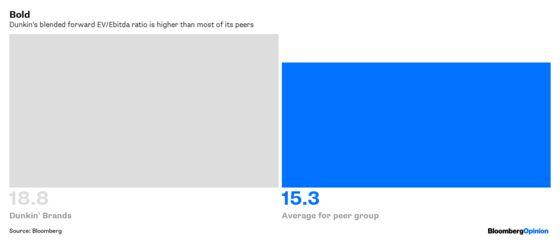 Pro: Single-Serve. Through licensing agreements, Dunkin' now has a 7.7 percent share of the singe-serve coffee market, a significant lead over J.M. Smucker Co.'s Folgers brand and McDonald's Corp.'s McCafe. Management said on Dunkin's July earnings call that its K-Cups are growing at more than four times the rate of the category. The long-term benefit is greater brand awareness that may help the chain expand to parts of the country where it doesn't have much of a presence yet. Franchise growth is the crux of Dunkin's strategy.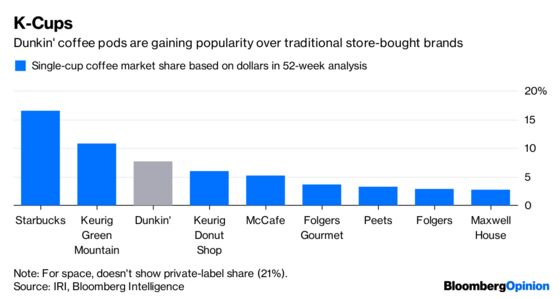 Con: Overseas Slog. America doesn't truly run on Dunkin', never mind other parts of the world. The chain is concentrated in the Northeast and Florida — where retirees from New England often migrate — and international sales for Dunkin' and its Baskin-Robbins brand were only about 13 percent of total company revenue in the last 12 months. It will be a challenge getting Dunkin's coffee and sweets to catch on abroad, an issue that Restaurant Brands' Tim Hortons has also been facing. 
It's only a matter of time before a consumer-goods or restaurant giant swallows Dunkin'. But while it's a beloved brand with room to grow, a takeover at these prices or with too many changes too quickly could risk indigestion. 
This column does not necessarily reflect the opinion of the editorial board or Bloomberg LP and its owners.
Tara Lachapelle is a Bloomberg Opinion columnist covering deals, Berkshire Hathaway Inc., media and telecommunications. She previously wrote an M&A column for Bloomberg News.