Euro-Area Businesses Show Warning Signs Amid Solid Growth
(Bloomberg) -- Euro-area businesses are starting to feel the heat from recently intensified trade tensions even as economic growth remains solid for now.
IHS Markit's Purchasing Manager's Index for manufacturing and services rose to 54.5 in August from 54.3 in July, marginally exceeding a prior flash estimate. The increase masks concern over business prospects, with expectations dropping to their lowest in 23 months.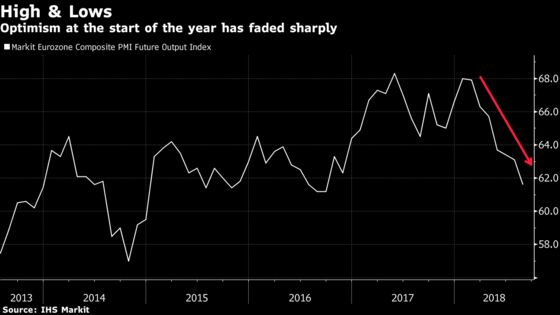 Data so far signal third-quarter economic growth may match the 0.4 percent rate recorded in the previous three months, but the "downturn in optimism raises questions over whether this pace of growth can be sustained into the fourth quarter," said Chris Williamson, an economist at IHS Markit.
As the European Central Bank is moving toward ending unprecedented bond buying, frictions between the U.S. and its trade partners over tariffs have raised concerns that economic growth could slow markedly and cloud the inflation outlook. President Mario Draghi has noted that global uncertainties are "prominent," while also reiterating that he's confident price pressures are gradually building in the 19-nation bloc.
Input costs rose sharply in August, according to Wednesday's report. Factory-gate inflation was "most acute" in Germany, while price trends remained "relatively subdued" in Italy.
Economic fortunes in the euro area are diverging as well, IHS Markit said. Germany and France saw momentum accelerating to six and two-month highs, respectively. A gauge for Italy fell to its lowest level in nearly two years and a measure for Spain signaled the weakest expansion in almost five years for the third quarter.
In the U.K., the dominant services sector expanded faster than expected in August, according to a separate report, pointing to a "robust" pace of growth for the nation's economy.