"Ramaphoria" fades
The "Ramaphoria" that spread in South Africa after Cyril Ramaphosa ended the scandal-ridden reign of his predecessor, Jacob Zuma, in February seems like a distant dream.
Africa's most industrialized nation yesterday entered a surprise recession, hit by the president's failure to enact quick reforms and by the perfect storm of global trade wars and market turmoil that's rocked countries from Brazil to Turkey.
To detractors, Ramaphosa has taken his eye off the economy as he deals with ruling party infighting, rooting out graft in state companies and pursuing constitutional change to allow for the expropriation of land without compensation — a move that's popular among parts of the black majority but has spooked investors. Unemployment is close to a 15-year high.
Arguably South Africa's most gifted politician since Nelson Mandela — he co-founded the biggest mineworkers' union and negotiated the constitutional arrangements to end apartheid — Ramaphosa appears to critics to be too cautious.
That could come back to haunt him when his African National Congress faces a general election next year. The danger is a population running out of patience for the delivery of what the ANC — Africa's oldest political movement — has long promised: economic liberation.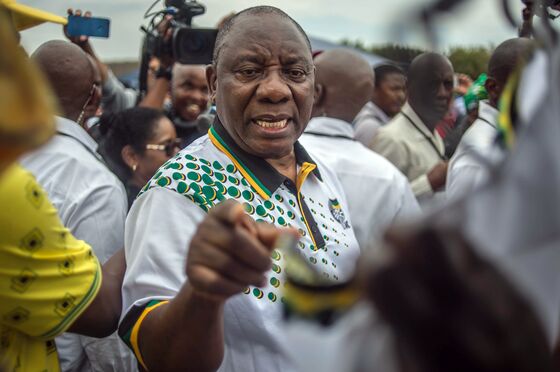 Just in: U.K. police have charged two Russian men in connection with the March nerve agent attack on former spy Sergei Skripal and his daughter.
Shutdown gambit | U.S. President Donald Trump is asking advisers if it would be good politics to provoke a government shutdown fight next month over money for his border wall with Mexico, even though Republicans in Congress say a closure before the November midterms would backfire, Jennifer Jacobs and Erik Wasson report. Republican leaders thought they had persuaded Trump weeks ago to delay any such confrontation until later in the year.
Social media grilling | Top executives from Facebook and Twitter are set to testify on Capitol Hill about foreign attempts to infiltrate their platforms and allegations of anti-conservative bias. Missing from the action will be executives from Google —  which has recently drawn Trump's ire. A Senate panel rejected the company's chief legal officer as a witness because he wasn't high-level enough.
Talks in Rome | Deputy Prime Minister Matteo Salvini is discussing his budget plans with the rest of Italy's coalition government after dialing back threats to blow out the deficit. Finance Minister Giovanni Tria will meet his euro area colleagues in Vienna on Friday, with the hosts airing concerns about Italy's finances. Austrian Finance Minister Hartwig Loeger said in an interview the European Union must be ready to ensure Italy cuts its public debt next year in line with the bloc's rules.
Roadmap to domination | As China waits to see if Trump will levy tariffs on $200 billion of its exports, Bloomberg News reports that unofficial targets driving the Made-in-China 2025 program call for capturing more than two-thirds of domestic market share in industries from robots to mobile communications equipment. If realized, that could lock foreign companies out of many segments in China and threaten market disruption for businesses across the globe.
Graveyard of the bankers? | A former JPMorgan Chase banker is seeking to strike it rich by setting up a $30 million private-equity fund focused on Afghanistan. As Chris Kay and Eltaf Najafizada report, the fund's founder is looking past the negative headlines and eyeing opportunities in insurance, energy, healthcare and untapped mineral resources that could be worth $1 trillion.
What to Watch
- Nafta talks resume as U.S. and Canadian negotiators push for a deal amid Trump's threats to abandon the pact.
- Democrats are set to start grilling Supreme Court nominee Brett Kavanaugh after contentious exchanges yesterday about Republicans' handling of the confirmation process.
- South Korean envoys return from Pyongyang and report on efforts to revive nuclear talks between the U.S. and North Korea.
- Michael Pompeo meets Imran Khan, after the U.S. secretary of state said he would tell the prime minister that Pakistan hasn't done enough against terror groups to warrant a resumption of security assistance.

And finally ... Trump aides and Cabinet officials are contesting excepts of a forthcoming book by Pulitzer-Prize winning journalist Bob Woodward that portray the president as mercurial, untruthful and inept and his staff as disdainful of their boss. One of the more intriguing tidbits is Woodward writing that then-economic adviser Gary Cohn stopped the president from ordering an exit from Nafta and the U.S.-South Korean trade deal by swiping documents authorizing the withdrawals from Trump's desk — without him realizing.