Businesses Shuttered as Historic Typhoon Jebi Lands in Japan
(Bloomberg) -- Typhoon Jebi swept through western Japan on Tuesday as the strongest tropical cyclone to come ashore in 25 years, causing widespread power outages and flooding the region's main airport. One person was reported killed.
The storm paralyzed the country's second-largest population center around Osaka, with companies forced to temporarily close their plants, and power cut to more than 800,000 homes and offices.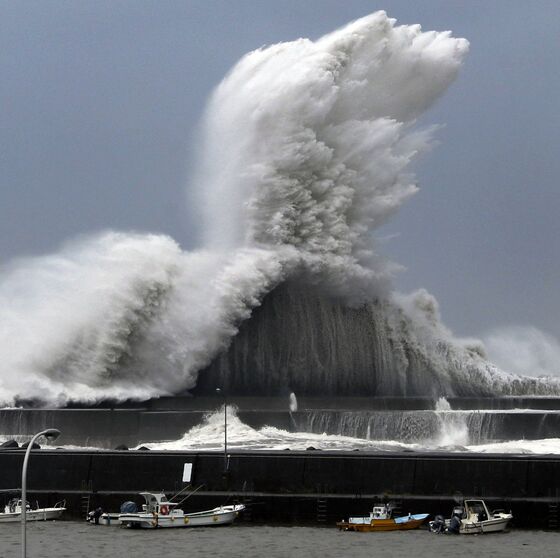 Jebi, the 21st typhoon of the season, swept the smallest main island of Shikoku before making landfall in Kobe, carrying strong winds of up to 162 kilometers per hour (100 mph), according to the Japan Meteorological Agency.
That made it a "very strong" typhoon, the second-highest on the JMA's scale. It was the first time for a typhoon to make landfall at that strength since 1993. The storm lost strength as it moved overland toward the Sea of Japan, where it is forecast to continue weakening rapidly.
Amid strong winds and storm surges, Kansai International Airport, built on an artificial island almost directly in the cyclone's path, suffered flooding to its runway and terminal building. A tanker also collided with a bridge linking the airport to the mainland and forcing the airport to close entirely. A spokeswoman for the airport told Bloomberg News that it doesn't know when it can resume operations.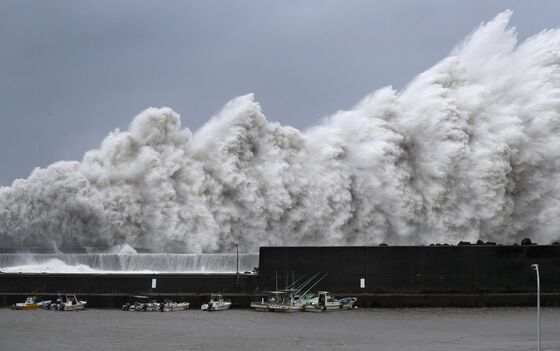 About 860,000 buildings in the Kansai, Shikoku and Chubu regions were without power as of 5 p.m., according to regional utilities, and more than 680,000 people had been issued evacuation orders or advisories, Asahi reported.
One person in Shiga prefecture was killed when a warehouse collapsed, Kyodo news reported.
All local train lines run by West Japan Railway Co. in the area's three main cities -- Osaka, Kobe and Kyoto -- remained halted as of 5 p.m., as well as all Shinkansen high-speed trains linking Tokyo to Hiroshima. ANA Holdings Inc. and Japan Airlines Co. canceled a total of 585 domestic and 13 international flights, and Prime Minister Shinzo Abe canceled a planned trip to Fukuoka in the southern island of Kyushu to deal with the disaster response.
Local production was also hit, with Toyota Motor Corp. halting operations at most of its group plants, and Honda Motor Co. halting its Suzuka plant in Mie prefecture. Kyocera Corp., Murata Manufacturing Co., Panasonic Corp. and Shiseido Co. were among other manufacturers shutting some of their facilities.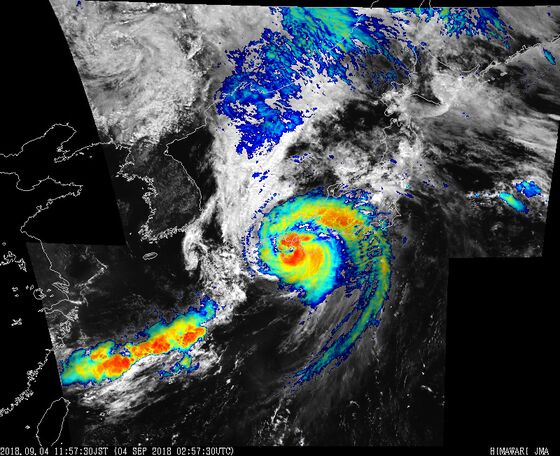 Jebi is the fourth typhoon to make landfall in Japan this season. Recent years have seen an increase in the number of typhoons directly hitting the country, with at least four making landfall every year since 2014.