Malaysia Decision Guide: Rates on Hold as Fiscal Worries Mount
(Bloomberg) -- Malaysia's central bank is set to keep interest rates unchanged on Wednesday, providing policy stability amid worries about the government's finances and a deepening emerging-market rout globally.
Low inflation and a currency that's been relatively sheltered compared to Southeast Asian peers means Bank Negara Malaysia is facing little pressure to hike rates now. All 17 economists surveyed by Bloomberg predict the benchmark rate will be left at 3.25 percent.
A bigger concern for economists is what steps Finance Minister Lim Guan Eng will take to cut debt and liabilities that exceed 1 trillion ringgit ($242 billion) and how the government will raise enough revenue to keep the budget deficit under control. A new fiscal plan will be tabled in Parliament on Nov. 2.
Here's a look at the economic conditions in Malaysia that will affect the central bank's policy outlook:
Lim is finding new obstacles by the day in his efforts to keep the nation's finances in order. Last month, he raised the alarm over 33.8 billion ringgit missing from accounts set aside for tax refunds. The government is already facing a tax revenue crunch after scrapping a 6 percent consumption levy in June, threatening the fiscal deficit target of 2.8 percent of gross domestic product for this year.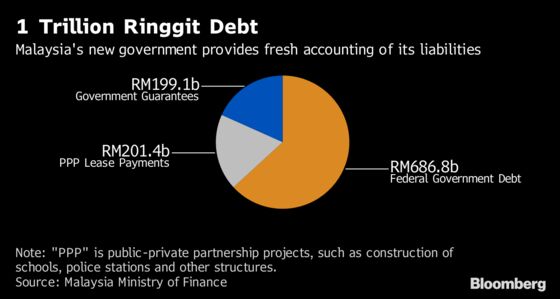 The replacement sales tax, which took effect this week, is estimated to earn the government 21 billion ringgit a year, less than half what was collected from the goods-and-service tax. Officials are counting on other revenue sources, such as larger dividends from state companies, to make up for the shortfall.
Click to read Petronas boosting its dividend
The government is also cutting state spending by canceling or deferring major projects, for example the Kuala Lumpur-Singapore high-speed rail and the East Coast Rail Link, which was backed by Chinese investors.
Inflation has been subdued, easing to below 1 percent in June and July, with the central bank saying consumer-price gains may stay low through the first half of 2019.
The new sales and services tax is unlikely to lead to a sharp rebound in inflation as it applies to less than 40 percent of products compared to the GST, according to Capital Economics Ltd. Retailers have likely accounted for it in setting their prices too.
Economic growth also faltered last quarter, adding to the case for unchanged rates. GDP rose 4.5 percent in the second quarter from a year ago, compared with 5.4 percent in the previous three months.
Malaysia was among the first central banks in Asia to raise rates this year with a hike in January.
While the ringgit is trading near a ninth-month low against the dollar, its 2.3 percent decline this year is modest compared to Southeast Asian peers suffering the brunt of emerging-market contagion. Indonesia's rupiah has tumbled more than 9 percent, while the Philippine peso has dropped 6.8 percent.
Bank Negara Malaysia could follow up with more measures to ease foreign-exchange trading after revising some rules for exporters last month.