Honda's Rough Accord Results Highlight America's Shift to SUVs
(Bloomberg) -- Honda Motor Co. extended a bleak stretch for a car widely regarded as one of the best in U.S. showrooms, as American demand for sedans may have reached a record-low share of the auto market.
Deliveries of the Accord dropped 11 percent in August and dragged on Honda's total sales, which missed analysts' average estimate. The model named the North American Car of the Year in January has been no match for the sport utility vehicles that U.S. consumers are buying in droves. Sales of the sedan have now dropped for 10 straight months.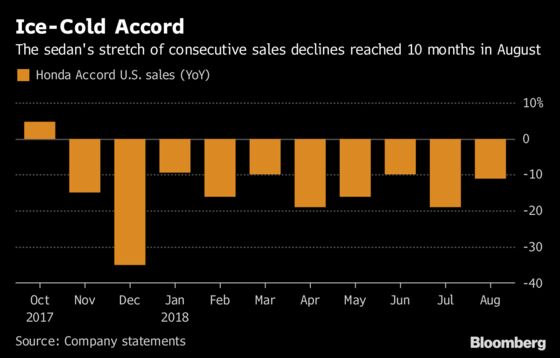 Honda has company: Every major automaker is struggling mightily to move sedans during an era of booming demand for SUVs and pickups. Toyota Motor Corp.'s Camry sales cratered last month, dropping 19 percent and outweighing a strong showing for Highlander crossovers and Tacoma trucks. Ford Motor Co., which eventually plans to drop every traditional sedan from the North American market, posted plunges of more than 30 percent with the Focus and Fusion, even as the F-Series truck line had its best August in more than a dozen years.
Passenger cars may have plunged to just 29 percent of the market in August, which would be an all-time low, according to Michelle Krebs, a senior analyst with AutoTrader. Five years ago, cars were 49 percent of industrywide deliveries, she said.
"If it continues to slide, then one wonders how low it can go," Krebs said of the sedan market. "We were anticipating passengers cars would make up 30 percent of the market this year, and that may have been optimistic."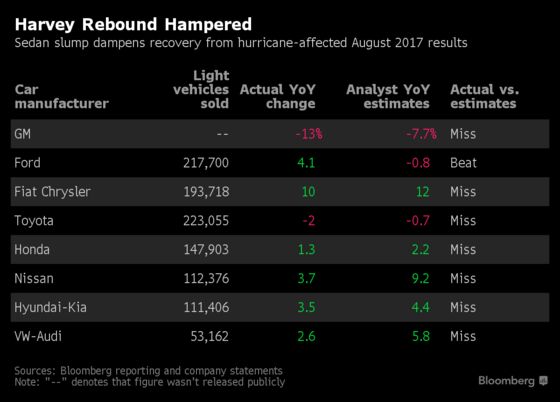 The worsening sedan slump is undermining what was a stronger-than-expected start to the year for the U.S. auto market. Industrywide deliveries have been tracking roughly in line with last year's strong showing and were expected to accelerate in August from when Hurricane Harvey hampered deliveries to Texas's gulf coast a year ago. But the annualized rate of sales, adjusted for seasonal trends, underwhelmed at just 16.7 million, the slowest pace in the past year, according to researcher Autodata Corp.
Monthly comparisons will get much tougher toward the end of 2018. A post-storm demand surge helped send the sales pace past 18 million in September 2017, as consumers replaced vehicles damaged by the disaster.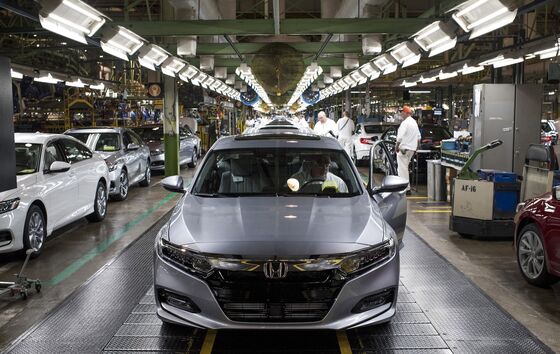 While sport utility vehicles including the Honda Pilot and Acura RDX are setting sales records, the Accord's spell has spoiled any victory party for having taken home awards as the best car in North America.
The family sedan won plaudits for sleeker styling, roomier interior and a standard safety system that recognizes traffic signs. Even so, Honda decided to dial back output earlier this year so that it could boost the number of CR-V crossovers it builds.
"Automakers have and continue to adjust production of sedans to meet lower demand, and incentives on them have been slowing," said Stephanie Brinley, an automotive analyst at IHS Markit. The declines will be "less disruptive for automakers with flexible manufacturing capability and popular light-truck products."