Abu Dhabi Three-Way Merger Turns Focus on `Last Bank Standing'
(Bloomberg) -- A potential three-way bank merger in the United Arab Emirates is boosting the stock of a lender that's not even involved in the deal: Abu Dhabi Islamic Bank PJSC.
ADIB's shares climbed in high volumes as investors speculate that it will be the next to join the race to consolidate. The stock lagged behind only the two local competitors that might be soon announcing a deal to create the fifth-largest bank in the six-nation Gulf Cooperation Council.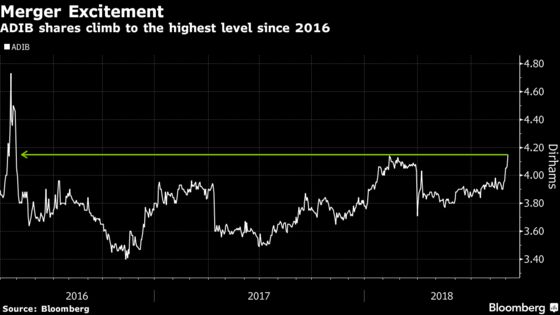 "ADIB is the last bank standing, and there still remains some hope that it would be joining hands with someone else," said Joice Mathew, the head of equity research at United Securities in Muscat. "Moreover, the merger news is taking the valuations of Abu Dhabi banks to higher levels, and ADIB is likely to play catch up here."
ADIB advanced 2.5 percent to 4.16 dirhams by the close on Tuesday, a 28-month high. The volume of shares traded was 96 times higher than the daily average for the past 30 days. It was the best-performing banking stock after Abu Dhabi Commercial Bank PJSC and Union National Bank PJSC, which both jumped more than 12 percent on the news they might merge with closely held Al-Hilal Bank PJSC.
Read More: Abu Dhabi Bank Mergers to Drive Gulf Consolidation
In November 2016, the oil-rich emirate weighed a plan to merge ADCB and UNB, while combining ADIB with Al-Hilal Bank, deals that didn't move forward. That was before last-year's completion of a merger that created First Abu Dhabi Bank PJSC, the biggest bank in the U.A.E.
"The ideal scenario would have been ADIB and Al Hilal, given the Islamic structure of the bank," said Aarthi Chandrasekaran, vice president at Shuaa Capital in Dubai, who said Tuesday's stock performance shows traders are betting more consolidation could be on the way. "We believe that Abu Dhabi would like to retain its pure-play Islamic bank," in the same way the neighboring emirate of Dubai has. This makes it unlikely that ADIB could be added to the combination of ADCB, UNB and Al-Hilal, she said.