Tropical Storm Gordon Forecast to Strike U.S. Gulf Coast as a Hurricane
(Bloomberg) -- New Orleans is on edge and some offshore energy workers have been evacuated as Tropical Storm Gordon heads for the U.S. Gulf of Mexico coast. It's expected to become a hurricane sometime Tuesday, and threatens to spread flooding rains into the Mississippi Delta and Midwest later this week.
Gordon, with top winds of 65 miles (105 kilometers) per hour, was about 145 miles east-southeast of the mouth of the Mississippi River, according to a National Hurricane Center advisory at 11 a.m. New York time. The center of the storm will move across the eastern Gulf of Mexico on Tuesday.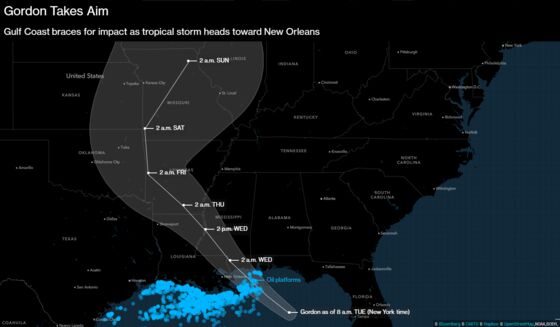 "Strengthening is expected today, and Gordon is forecast to be a hurricane when it makes landfall along the north-central Gulf Coast," according to the NHC advisory. "Rapid weakening is expected after Gordon moves inland."
On Monday, New Orleans Mayor LaToya Cantrell declared a state of emergency for the city to prepare for Gordon, according to an emailed statement from her office. She also ordered government offices to be closed on Tuesday. In 2005, a much stronger Hurricane Katrina caused flooding devastated the city, killed about 1,800 people along the Gulf Coast and left many areas uninhabitable for months.
Damage could be as high as $500 million, said Chuck Watson, a disaster researcher at Enki Research in Savannah, Georgia.
"A significant part of the damage will be uninsured," Watson said. "So this is a non-event from an insurance industry perspective."
Hurricane and tropical storm warnings cover the Gulf Coast from Louisiana to the Florida-Alabama state line. A storm surge watch is in place along the coastline as Gordon could push water as much as 5 feet above ground depending on the tides.
Gordon will skirt through the eastern edge of the Gulf's offshore oil and natural gas platforms where it will probably have little impact because it isn't that strong and will pass through the area quickly, said Matt Rogers, president of Commodity Weather Group LLC in Bethesda, Maryland.
"At this point it looks really disorganized," Rogers said. "It has a really short fuse here. By later this evening it will be in and out."
The ports of Mobile, Alabama, and Pascagoula and Gulfport in Mississippi, were closed Tuesday morning as the storm approached. Chevron Corp. shut in production at one Gulf facility and evacuated some non-essential personnel, according to an email Tuesday. Crews were pulled off two platforms by Anadarko Petroleum Corp. according to its website. The Louisiana Offshore Oil Port said it's watching Gordon closely, but there currently are no disruptions.
The region produces about 5 percent of U.S. natural gas and 17 percent of crude oil, according to the Energy Information Administration. In addition, onshore facilities account for about 45 percent of U.S. refining capacity and 51 percent of its gas processing.
In addition to wind and storm surge, Gordon could drop as much as 8 inches (20 centimeters) of rain across Louisiana and Mississippi, with as much as 12 inches in some isolated areas. Winds could peak at 75 miles per hour.
Gordon will probably break up later in the week and its remnants could bring rain to the Great Plains, as well as the Midwest, where it won't be much help for farmer preparing to harvest corn and soybeans, Don Keeney, senior agricultural meteorologist at Radiant Solutions.
"They do not need the rainfall right now. It's going to be an issue for corn harvesting and beans," Keeney said. "They are done growing so they need dry weather."