Powerful Typhoon Jebi Set to Strike Western Japan Tuesday
(Bloomberg) -- Typhoon Jebi is set to hit western Japan on Tuesday, with authorities warning that it could be the strongest storm to make landfall in Japan in a quarter century.
The category 3 typhoon, the 21st of the season, is bearing down on the area of western Japan that holds Osaka, and will likely make landfall on Shikoku or the Kii Peninsula on Tuesday, according to the Japan Meteorological Agency.
Jebi is picking up speed and while it is expected to weaken slightly to a category 2 storm in the next 24 hours, it will still carry winds of up to 162 kilometers per hour (100 mph) when it hits the Shikoku and Kansai regions.
The storm is set to paralyze transport in Japan's second-largest population center on Tuesday. West Japan Railway Co. said that it would halt all local trains in Osaka, Kyoto and Kobe until at least 10 a.m. on Tuesday. The Universal Studios Japan theme park, one of Osaka's main tourist draws, will shut down for the entire day. Authorities called on residents to avoid any unnecessary trips outside.
The typhoon may also bring further downpours to areas that were devastated by sudden rainfall in early July that killed more than 200 people. Jebi is predicted to bring heavy rains through Wednesday, though the typhoon's rapid speed may lessen the amount of rain any one area receives.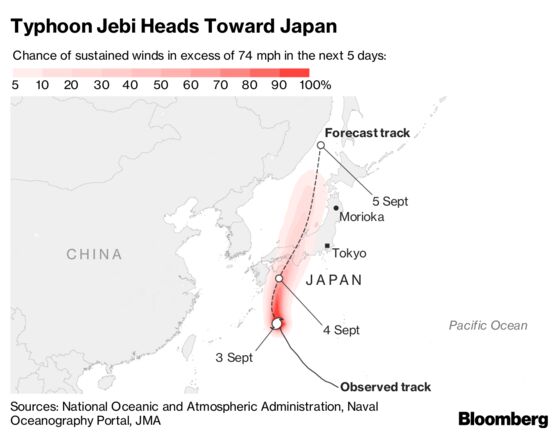 The storm was located about 575 kilometers south of Shikoku as of 3 p.m. local time. After hitting western Japan on Tuesday, it is set to pass over the main island of Honshu and into the Sea of Japan, where it will weaken. While Tokyo will be spared the worst of the storm, authorities have warned of very strong winds even in the capital.