Nigerian Candidate Abubakar Vows to End Many Exchange Rates
(Bloomberg) -- Nigerian presidential hopeful Atiku Abubakar said he will scrap a system of multiple exchange rates to attract foreign investment and accused President Muhammadu Buhari of failing to deal with the nation's security challenges.
"I would definitely end" the existence of several naira rates, Abubakar, a 71-year-old former vice president, told reporters Monday in Lagos, the commercial capital of Africa's biggest oil producer. "It's clearly anti-business and anti-foreign investment."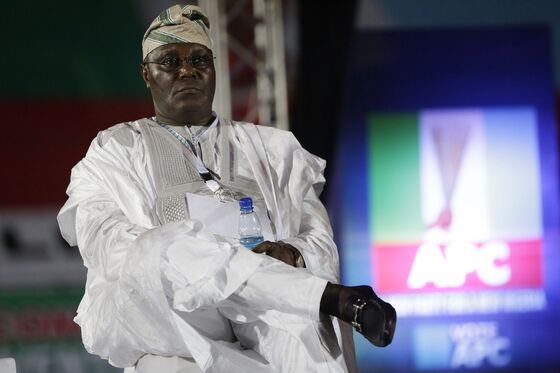 Investors and the International Monetary Fund have long called on Nigeria to ease currency controls to boost an economy that's still struggling after the 2014 crash in crude prices. While he would need more advice before deciding whether to float the naira, it was important to have a "deregulated foreign-exchange market," Abubakar said in a separate interview.
He declined to say if he'd want central bank Governor Godwin Emefiele, who introduced the current exchange-rate regime, to serve beyond his first term, which ends in June next year.
"He alone is not the architect of that policy," Abubakar said. "He couldn't have implemented it without the input of the government. The central bank doesn't work on its own. It works with the government."
Abubakar, a Muslim from the north and a father of 26 children, is one of the main contenders to be the candidate for the opposition People's Democratic Party, which will hold primaries later this year, along with Senate President Bukola Saraki and three former state governors. Abubakar defected from Buhari's ruling All Progressives Congress last year, returning to the PDP, under which he served as vice president from 1999 to 2007.
His candidacy is facing resistance within the opposition, with former President Olusegun Obasanjo saying he wouldn't support the bid of Abubakar, who served as his deputy.
Abubakar has been a presidential aspirant in three different parties since Nigeria returned to democratic rule at the turn of the century. He lost to Buhari in the APC primaries in 2015 but supported him as the candidate. Buhari's subsequent victory against then President Goodluck Jonathan marked the first time in Nigeria's history that an opposition challenger took power through the ballot box.
A former top customs official who became a major shareholder in Intels Nigeria Ltd., an oil-service company, Abubakar favors regional autonomy and power devolution, a stance that has popular appeal particularly in southern Nigeria.
"We need to return to true federalism and devolve more power," he said. "A lot of power is concentrated in the center. That's not the best way to improve security, health and education."
Abubakar blamed Buhari for failing to diversify the economy from oil and handle security problems ranging from Boko Haram's Islamist insurgency to deadly clashes between farmers and herdsmen.
"It's been a disappointment," he said. "We have done very badly as far as the economy, security and the unity of the country are concerned."
Abubakar said his experience as vice president and in business stood him in good stead to govern Nigeria.
"I have a strong track record," he said. "The economy did well when we were in government. The private sector was booming. And I've been a successful businessman. Buhari has driven out foreign investors."
Abubakar, who's widely known at Atiku, has a good chance of winning the PDP's ticket, according to Adedayo Ademuwagun, a Lagos-based analyst at Songhai Advisory.
"He's demonstrated a pro-business, pro-private investment orientation that sharply contrasts with Buhari's interventionist economics," Ademuwagun said. "The PDP are going to want to use that factor."
While Abubakar would continue with Buhari's anti-corruption campaign, he would change the focus from solely going after officials accused of graft to "preventative" measures, including moving more government services online so that civil servants find it harder to ask for bribes.
"The mentality at the moment is about punitive actions," he said. "I want to expand that. Prevention is better than cure."
One of Abubakar's main challenges will be to counter allegations of graft that opponents have long thrown at him to explain his wealth, according to Ademuwagun. Abubakar said his business dealings were above board and that almost all Nigerian politicians faced accusations of corruption.
"I challenge anyone with allegations to come forward and prove it," he said.