Hedge Funds That Shorted Carillion Now Circle Rival Kier
(Bloomberg) -- Some of the same hedge funds that took aim at Carillion Plc, the U.K. construction company that collapsed earlier this year, are now targeting one of its peers.
Bearish wagers against Kier Group Plc surged to a four-year high, according to data compiled by IHS Markit Ltd., with rising short interest from hedge funds such as Marshall Wace LLP and Och-Ziff Capital Management Group LLC.
Kier operates a supply-chain finance system, through which suppliers can sign up to be paid in advance by lenders while receiving a discount on their bills. The system, part of a government scheme introduced in 2012 to allow material and service providers to access credit, has been criticized as a way for contractors to extend payment terms to their suppliers. Carillion used the system to keep cash on its books while retaining money it owed its suppliers.
"One assumes because of the success they've had with Carillion, they are looking for the same pitfalls and characteristics," said Kevin Cammack, an analyst at Cenkos Securities Ltd. Still, Kier's model makes the company easier to deal with and "there are one or two things that will take time for Kier to convince people that fundamentally it is a decently enough run business," said Cammack, who has a hold rating on the stock.
The total short position in Kier reached 10.9 percent as of Aug. 30, according to IHS Markit data. Funds managed by BlackRock Inc., Marshall Wace, Och-Ziff Capital Management and Kuvari Partners LLP, which had disclosed bearish positions against Carillion, are also shorting Kier, according to data compiled by Bloomberg. All the firms declined to comment on positions taken in Kier.
Kier shares dropped as much as 4.1 percent, reversing a gain earlier in the day, after Bloomberg reported on the hedge funds' moves. The stock was trading down 2.6 percent at 924.5 pence as of 1:08 p.m. in London, pushing the decline this year to 15 percent and valuing the Bedfordshire, England-based company at 902.9 million pounds ($1.16 billion).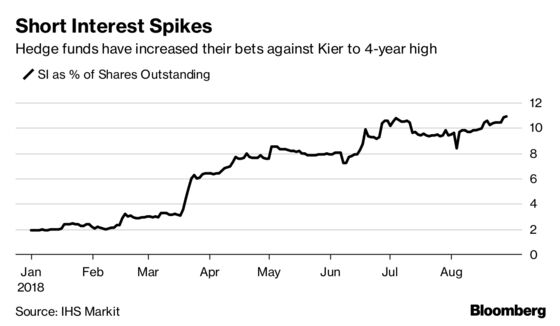 Kier declined to comment on the short-selling. It pointed to remarks made by Chief Executive Officer Haydn Mursell on a January conference call, addressing Kier's approach to contract-risk management one week after Carillion went into liquidation.
Mursell said then that the builder's average project size is "very modest," between 5 million pounds and 10 million pounds, with an average duration of less than 12 months. Over 50 million pounds, Kier seeks cost-plus arrangements to lower risk. He also said that two-thirds of construction work is delivered for repeat customers with longstanding relationships to the company. "It's a great collaborative approach, and of course that goes to further mitigate the risk on the contracts," Mursell said.
Short sellers borrow and then sell shares, hoping to buy them back at a lower price and pocket the difference.