Eight Die in Rheinmetall Denel Plant Explosion in Cape Town
(Bloomberg) -- South African investigators are trying to ascertain the cause of an explosion at a Rheinmetall Denel Munition (Pty) Ltd. plant on the outskirts of Cape Town that killed eight people.
Monday's blast destroyed the entire building and surrounding walls at the Macassar facility, the South African company said in a statement on Tuesday. It was unable to confirm further details because the area was cordoned off, but it assured the public that the plume of smoke hanging over the facility posed no threat.
The death toll was confirmed by Cape Town's Disaster Risk Management Centre.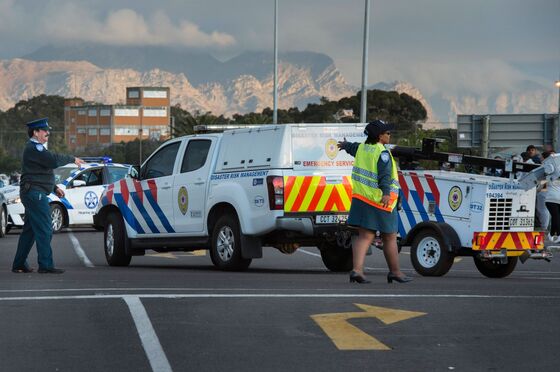 "All necessary precautions have been taken," Charlotte Powell, the center's spokeswoman, said in a text message.
The company, which specializes in the development, design and manufacture of large- and medium-caliber ammunition, is 51 percent-owned by Rheinmetall Waffe Munition GmbH of Germany and 49 percent by Denel SOC Ltd., South Africa's state weapons company, according to its website. The Macassar site, one of five it operates in South Africa, has 600 employees.
"This is a bad day for Rheinmetall," Rheinmetall AG, the Germany parent company, said in a statement on Tuesday. "Management and staff of Rheinmetall are mourning their colleagues lost. Experts are determining the cause of the accident and the scope of the damage. While that investigation continues, we cannot comment further."
Its shares fell 1.5 percent to 91.38 euros at 12:32 in Frankfurt, extending Monday's 1.2 percent decline. The South African unit was its most profitable business across its defense operations in the second quarter, with an operating margin of 9.2 percent.