Davivienda Colombia Manufacturing PMI Production Index at 55.6
(Bloomberg) -- Colombia's manufacturing industry production index improved to the greatest level in more than two-and-a-half years in August. The overall manufacturing gauge dipped to 53.3, little-changed from July's 30-month high of 53.5.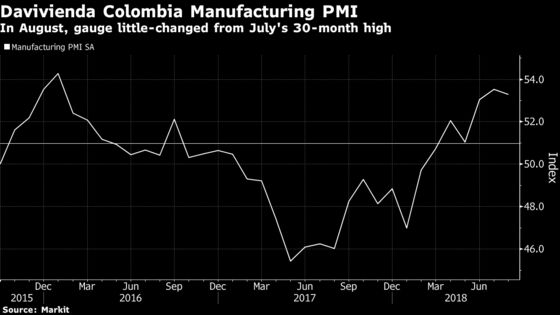 "The Davivienda PMI for August showed little change and continues to confirm above-historical-average growth in orders, production and input purchasing" said, Pollyanna De Lima, economist at IHS Markit.
The output index strengthened for the third month in a row and increased by the most since January 2016. A measure of future activity meanwhile reached the second-highest level since the question was added to the survey in April 2012.
Both factory material prices and output prices increased in August. About one in five participants reported higher prices paid while only one in twenty noted a reduction. Survey participants blamed rising prices in a wide range of materials such as steel, aluminum, cellulose, chemicals, energy, food, paper, plastics, and textiles. As a result, Colombian manufacturers are passing on higher prices to customers. Factories have been raising prices for more than five years in a row.