Embattled Argentina Turns to Farmers With 'Really Bad' Tax
(Bloomberg) -- Argentina will place a new tax on crop exports as President Mauricio Macri asks farmers to help him resolve a crisis marked by rampant inflation and interest rates and a plunging currency.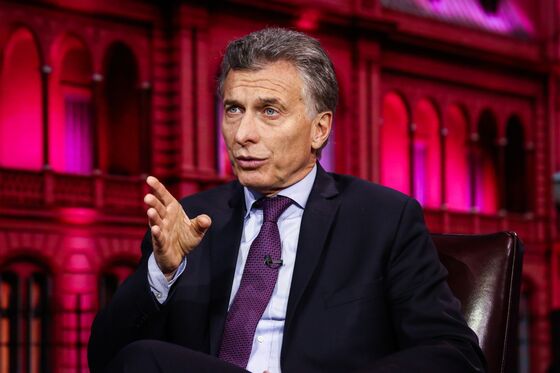 All shipments of primary exports will be levied at four pesos per dollar, meaning payments will depend on commodity prices and the exchange rate. The measure is a turnaround for Macri who had been repealing taxes introduced by his predecessors that had outraged growers in the world's top exporter of soy meal and oil.
"We know it's a really bad tax that goes against what we want to spur, which is more exports," Macri said in a televised speech. "But I ask you to understand -- it's an emergency and we need your support."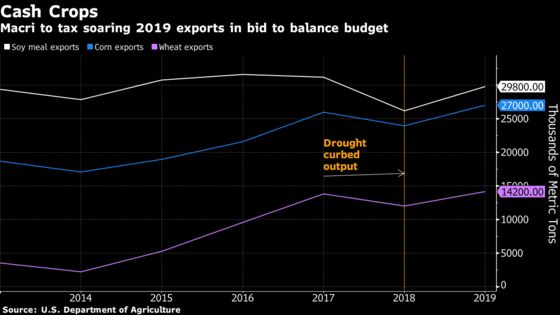 The move means exports of corn, wheat and beef will be taxed again after Macri had scrapped levies when he took office in December 2015. Argentina is the world's third-biggest shipper of corn and seventh in wheat.
For Argentina's chief cash crop -- soybeans and their byproducts, soy meal and oil -- the announcement means an increase in the tax rate.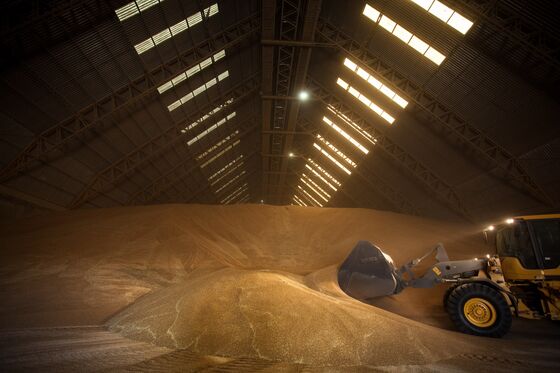 That's despite a reduction of the existing export tax to 18 percent from 26 percent in August for raw beans, and from 23 percent for meal and oil. Now all three will be subject to 18 percent, plus the new tax of four pesos per dollar, until the end of 2020. At today's prices and exchange rate, that would mean an all-in rate of 29 percent, Gustavo Idigoras, head of Ciara-Cec, Argentina's crushing and crop-export chamber, said in a text message.
In a shift from a gradual approach to closing the budget deficit, Macri is now aiming to get out of the red next year after a rout on the peso signaled investors want more fiscal discipline.
Argentina's crop shipments brought in $21.4 billion in 2017, according to Ciara-Cec. The group's members include the so-called ABCD giants of agricultural trading. After a crippling drought this year, shipments are set to rebound in 2019, with forecasts for record corn and wheat crops.
While farmers will chafe at rising export taxes, some may begrudgingly accept them as a temporary measure to pull Macri out of a crisis. The peso has lost 29 percent in the past month amid growing investor concern about the government's ability to finance itself.
"We're the trampoline the government jumps on when it needs help," said Pedro Vigneau, who farms 1,700 acres of crop and pasture fields in Bolivar. "I want to see the country back on its feet. But Macri needs to make sure any emergency measures do not stay in place forever."