Why China's Tech Darlings Are Losing Their Fangs
(Bloomberg Opinion) -- Not all tech stars are equal. While U.S. giants from Apple Inc. to Amazon.com Inc. march to or through the $1 trillion valuation mark, China's darlings are getting dumped.
The groups started to diverge two months ago, and the big American tech stocks have outperformed their Chinese counterparts by 19 percentage points since then. With more than $18 billion of bets now standing against Alibaba Group Holding Ltd., the e-commerce leader is the world's most shorted stock. Tencent Holdings Ltd. shares dropped as much as 5 percent in early Hong Kong trading Thursday after reports that China plans further curbs on gaming.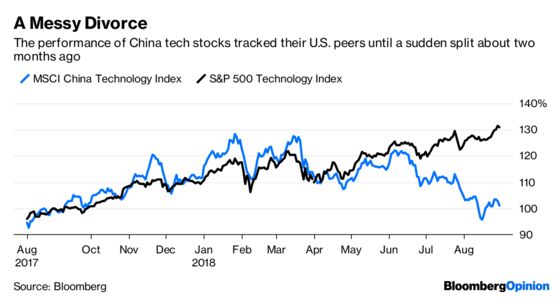 There are several reasons for the swoon. In June, the U.S. trade war started to undermine the confidence of Chinese consumers, on whom internet companies rely. The latest earnings season was ugly, with second-quarter profit growth slowing to 16.2 percent, from 47 percent a year earlier.
But there are reasons to believe the divergence is structural and here to stay. 
Take a look at the valuations of Tencent and Alibaba. Despite weak earnings, the pair are trading within their historical price-earnings range. On a price-to-sales basis, though, they've fallen off a cliff.

In other words, investors no longer believe that a dollar of sales from China tech can trickle down to shareholders the way it did in the past. 
China tech's spending spree is alarming. This year, Alibaba, Tencent and JD.com Inc. have already splashed out more than $37 billion on stakes in startups. You hardly see this kind of venture-capital generosity from Amazon or Apple.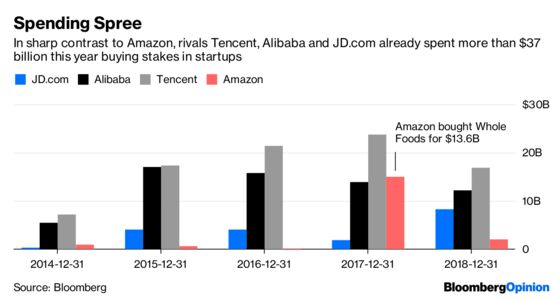 While U.S. companies like Amazon and Netflix Inc. still believe in entering new markets on their own, China Inc. seems to have decided that a strategic investment in a startup is a more attractive option. The Chinese firms may be taking their cue from long-time patrons: Small investments two decades ago by South Africa's Naspers Ltd. and Japan's SoftBank Group Corp. became $130 billion-plus stakes in Tencent and Alibaba, respectively.
But we've ended up with a dizzying overlap of investments. 
Ofo and Mobike are the top bicycle-sharing brands in China, the former backed by Alibaba. Mobike, initially supported by Tencent, was recently acquired by Meituan Diaping, an online food-delivery service provider that in turn is 20 percent-owned by Tencent.
Or look at Indonesia. Lured by the Southeast Asian nation's youthful population, Alibaba, Tencent and JD.com now back four of the top six online e-commerce players there.
Naspers and SoftBank kept out of each other's way while seeding startups in China, favoring different areas of the consumer internet. Not so with China's new online conglomerates. The increase in overlap can only lead to fierce competition, greater cash burn, and eroding returns on invested capital. 
Worrying signs are already appearing in earnings. New businesses, such as cloud computing and entertainment, are dragging on Alibaba's profit, as my colleague Tim Culpan noted. The situation at JD.com is worse: Research and development expenses ballooned by 80 percent to 2.8 billion yuan ($410 million) last quarter. Yet JD isn't expecting faster sales growth — at the top end of its guidance, the company sees a 17 percent increase.
Relentless expansion is nice, but investors need regular reminders that it brings rewards.
This column does not necessarily reflect the opinion of the editorial board or Bloomberg LP and its owners.
Shuli Ren is a Bloomberg Opinion columnist covering Asian markets. She previously wrote on markets for Barron's, following a career as an investment banker, and is a CFA charterholder.