U.K. House Prices Drop Most Since 2012 as BOE Raises Rates
(Bloomberg) -- U.K. house prices fell by the most in six years in August as the Bank of England lifted interest rates, according to Nationwide Building Society.
The lender said in a report Friday that values fell 0.5 percent in August. Compared with a year ago, the pace of gains slipped to 2 percent from 2.5 percent in July.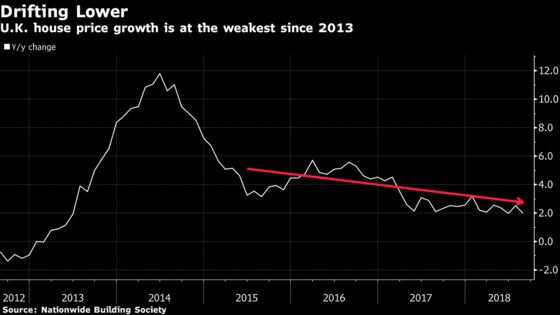 Britain's housing market has been in a broad slowdown for some time after a three-decade boom meant properties have become unaffordable for many Britons. Prospective buyers are also wary of taking on debt amid weak wage growth and rising interest rates, while Brexit is weighing on confidence and enthusiasm for major purchases.
"Subdued economic activity and ongoing pressure on household budgets is likely to continue to exert a modest drag on house price growth and market activity this year," said Robert Gardner, Nationwide's chief economist. "We continue to expect house prices to rise by around 1 percent over the course of 2018."
The BOE lifted its benchmark by a quarter point to 0.75 percent on Aug. 2, the highest level since 2009. The central bank says that a limited and gradual tightening will be needed to keep consumer prices in check over the next few years.