Trump Gives Himself an A-Plus
Donald Trump has no intention of playing nice with Europe over trade, is considering a capital gains tax break and might pull out of the World Trade Organization if it doesn't treat the U.S. better.
Those were among the key takeaways from the president's Oval Office interview yesterday with Bloomberg Editor-in-Chief John Micklethwait and White House reporters Margaret Talev and Jennifer Jacobs.
While the outside world might see him as in a bit of a bind, Trump made clear he doesn't share that view, Micklethwait writes.
On trade, he declared the EU "almost as bad as China, just smaller," touted the economic boom over which he's presiding, and took pot shots at China. He again blasted Special Counsel Robert Mueller's investigation into alleged election meddling by Russia as "illegal," saying impeachment isn't possible because lawmakers can't "impeach somebody that's doing a great job.''
Overall he awards himself an A-plus, calling "the level of love" at his rallies "just a beautiful thing to watch."
But with prosecutors creeping closer and the very real prospect that Republicans could lose control of the House in November, the toughest tests of Trump's resilience may lie ahead.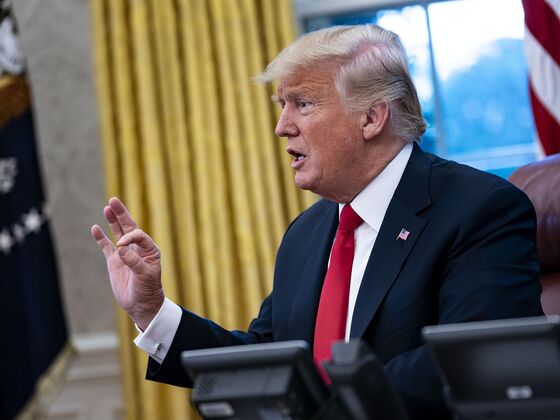 EU trade dispute | Trump's remarks cast doubt on the longevity of his July handshake agreement with European Commission president Jean-Claude Juncker. That truce had been intended to stave off a broader trade war between the U.S. and Europe after the president imposed tariffs on imported steel and aluminum earlier this year. The trans-Atlantic dispute has rattled markets and shaken the international order created after World War II.
Strength and patience | Trump sounded an upbeat note on the ability of the U.S. to outlast China in their trade war. "We are a much stronger country," he said. "Nobody's waiting us out." It comes as the U.S. could move ahead with $200 billion in tariffs on Chinese imports as soon as next week. The president was equally sanguine on North Korea, as tensions re-emerge over its nuclear program, saying he has the "patience" to make a deal. Click here for a full roundup of the news from yesterday's interview.
Staying silent | As the U.S. and Europe call for greater pressure on China over reports it may be holding as many as 1 million Muslims in "re-education" camps, Beijing has escaped serious criticism from governments in the Islamic world. Their silence underscores China's position as a major trading partner and aid provider to many Muslim-majority countries — and the difficulty of acquiring first-hand evidence of abuses allegedly occurring on a remote and heavily policed frontier.
Back to school | Marion Marechal is the latest scion of the Le Pen family to take on the French establishment. The granddaughter of National Front founder Jean-Marie Le Pen is setting up a graduate school for the next wave of anti-European leaders. A darling of the French right, at just 28 Marechal has her sights on bigger things: "I want to be part of the next patriotic elite," she said in an interview with Helene Fouquet.
Trudeau's bad week | Justin Trudeau's core economic theory — that you can balance environmental protection and resource development — has hit the skids. After a court struck down the permits for an oil pipeline he approved, Alberta — the nation's top emitting province — quit his climate plan, which it had only accepted to buy public support for the project. It's the latest setback in a rough ride for the Canadian leader before next year's election.
Trade negotiators from Canada and the U.S. are racing to hit today's deadline for a revised deal as part of the Nafta revamp.
The fate of jailed ex-president Luiz Inacio Lula da Silva could be decided as Brazil's top electoral court meets on whether he can stand as a candidate.
Australian filmmaker James Ricketson may appeal his conviction for spying in Cambodia — he's been sentenced today to six years in jail — or seek a pardon from King Norodom Sihamoni, the Associated Press reports.
And finally...Theresa May's awkward dance moves in Africa — not once, but twice did she get down and boogie on a three-day trip — sparked much derision online. The clips went viral, along with a plethora of musical remixes. But the British prime minister had a sense of humor about it. "I suspect my dancing this morning might not make it on to Strictly…!!" she said, in a reference to the British television dance contest Strictly Come Dancing. For her, it might be a relief for once to have a conversation that isn't about Brexit.