Lira Gets a Helping Hand as Turkey Raises Tax on Dollar Deposits
(Bloomberg) -- The lira rallied after Turkey raised taxes on dollar deposits, making it more attractive for investors to plough money into the local currency.
The lira snapped four days of losses after the government raised taxes on dollar deposits of up to a year and scrapped a 10 percent tax on lira accounts with maturities longer than a year. The currency is still heading for a loss of around 9 percent this week and is the second worst-performing emerging-market currency this year.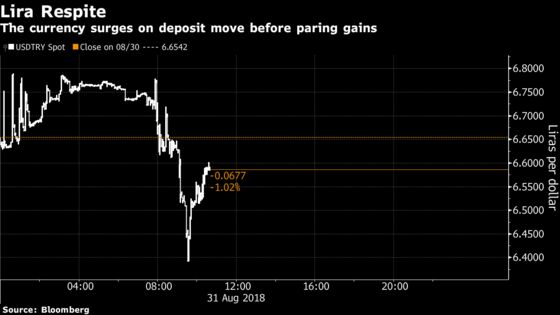 The tax shifts are the latest in a series of moves by policy makers this month to try to stem the slide in the lira. The central bank has come under pressure from President Recep Tayyip Erdogan to avoid rate increases, which investors are looking for to tackle double-digit inflation. A widening current-account deficit and U.S. sanctions have also hurt the currency.
"The appreciation of the lira this morning has likely been triggered by the announcement that a tax on lira savings will be waived," said Per Hammarlund, chief emerging-market strategist at SEB AB in Stockholm. "The lira deposit tax waiver shouldn't be that important. It's a drop in the ocean. Given that no other EM currency is showing signs of moving that much, I think someone is intervening in low liquidity."
The dollar fell 1.4 percent against the lira at 6.5633 as of 11.00 a.m. in Istanbul, after dropping as much as 3.9 percent.
"The jump is unlikely to signal a trend shift," said Hammarlund. "For lira stability to be sustainable, more drastic action such as monetary policy tightening, fiscal consolidation and an rapprochement with the U.S. would be required."