Italian Bonds Are a Buy for $61 Billion Fund Before Fitch Review
(Bloomberg) -- Most Italian bond investors are running for cover ahead of what is potentially another month of turmoil, but not this one.
BlueBay Asset Management LLP, which oversees $61 billion, is keeping its long position in Italy's debt, even with the sovereign rating up for review by Fitch Ratings as early as Friday and amid concerns next month's budget could blow a hole in public finances.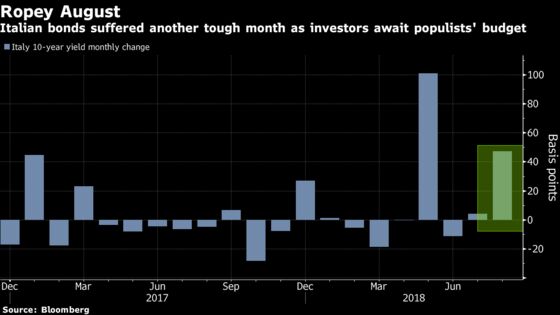 Fitch is unlikely to downgrade the euro area's third largest economy by more than one notch at Friday's review, according to Mark Dowding, a money manager at BlueBay, which means the nation would remain investment-grade. The odds of Italy getting cut to junk within the next year by a major ratings agency was next to nil, he said.
"The rating story shouldn't be a big issue and we don't think the budget will ultimately be a big trigger," Dowding said, adding that he is overweight or long on the so-called BTPs across the yield curve. "Do I think there's any chance that Italy loses it's investment grade rating in the next year or so? Absolutely not."
Moody's Investors Service has put Italy on review for a possible downgrade, though it's extended this until end-October at the latest to get "greater clarity."
BlueBay is keeping its optimistic outlook even as Italian bonds have endured their second-worst month this year, following the meltdown in May amid the political imbroglio around forming a populist government. Investors will be closely watching the euroskeptic Five Star Movement-League coalition's first budget to see that it doesn't disregard the European Union's 3 percent deficit limit.
Finance Minister Giovanni Tria said that he doesn't intend to breach the EU's limit, seeking instead a deficit of 1.5 percent of economic output, according to the La Stampa newspaper, which didn't say where it got the information. That runs counter to Deputy Premier Luigi Di Maio who said earlier this week that Italy may choose to break the EU's spending rule.
Italian 10-year yields were at 3.21 percent as of 12:40 p.m. in London, having touched a three-month high of 3.24 percent Thursday. The spread over their German peers was at 283 basis points.
Dowding said the current bond market pricing was implying a one-in-three chance of Italy leaving the euro within three years. He described it as a "real over-exaggeration," given that polls have suggested that such a move would not have the population's backing and would potentially require a constitutional change.
"The bond market is really pricing the risk that Italy will pay you back, but in lira," he said. "Italy isn't leaving the euro, so BTPs look like a buy right here."