Ford Cancels Plans to Import SUV Model From China in Wake of Tariffs
(Bloomberg) -- Ford Motor Co. is canceling plans to import a new crossover model from a plant in China after President Donald Trump's tariffs undermined the business case for bringing the vehicle to the U.S. market.
Trump's move to slap China-built autos with an additional 25 percent levy in July undermined the profitability of the Focus Active that Ford planned to start shipping into the U.S. about a year from now, said Kumar Galhotra, president of North American operations. The company decided it wasn't worth investing more money in a vehicle that would have had fewer than 50,000 unit sales a year in the U.S.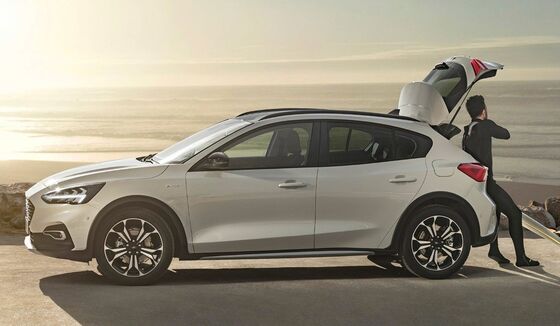 "Our viewpoint on Focus Active was that, given the tariffs, obviously our costs would be substantially higher," Galhotra said in a conference call with reporters. "Our resources could be better deployed."
Pulling the plug on the Focus Active won't be hugely significant to Ford's business, as it sells more than 2.5 million vehicles a year in its home market. But its cancellation could portend the first of several culling from automakers' U.S. lineups if Trump continues to escalate trade wars with the likes of China, Europe and even Canada.
For months, Trump's Commerce Department has been investigating whether imported cars and components pose a threat to U.S. national security, and the administration is said to be considering tariffs of as much as 25 percent.
Imposing those duties would render many models more expensive, and some may even end up dropping from showrooms, said Kristin Dziczek, vice president of industry, labor and economics at the Center for Automotive Research.
"The Trump Administration seems very intent on imposing the 232 tariffs," Dziczek said, referring to the section of trade law being invoked to counter imports. "That would mean that a lot of models would be withdrawn from the U.S. market."
Automakers have already been seeking refuge from Trump's trade battle with China. General Motors Co. this month asked the administration to grant a tariff exemption to the Buick Envision sport utility vehicle it imports from the eastern province of Shandong.
Volvo Cars piggy-backed off GM's request, asking that its similar-size XC60 SUV also be immune from the levies. And Daimler AG has predicted significant financial fallout from the duties. In June, the Mercedes-Benz maker cut its profit outlook for the year, citing in part its expectation that fewer Chinese consumers will buy Alabama-built SUVs as a result of Beijing's retaliatory tariffs.
Trump is waging trade battles on several other fronts, leaving automakers to war-game where they should assemble cars and procure parts from.
In addition to the levies already implemented for cars imported from China, the president has threatened steep tariffs on vehicles shipped from Europe. And while the U.S. has a preliminary agreement with Mexico to require that more cars and components are made by higher-wage workers to avoid duties, talks with Canada to get the country to join the agreement were said to end Friday without a deal.
Ford is abandoning the Focus Active as an aging model lineup crimps earnings in its home market. While the company has pledged to get back to a 10 percent margin in North America, it hasn't said by when.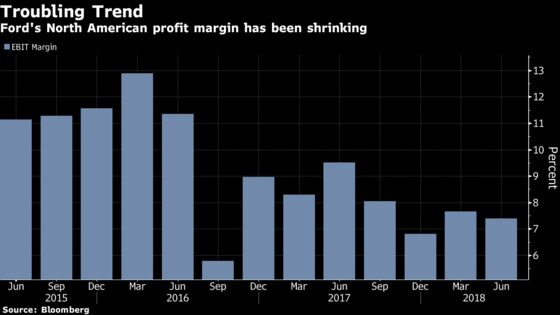 Moody's Investors Service this week downgraded Ford's credit rating to a step removed from junk, citing risks associated with a turnaround effort that Chief Executive Officer Jim Hackett has warned could cost $11 billion and take years. While analysts have warned that the company's dividend may need to be cut, senior executives have maintained that it's not at risk.
Last month, Ford's stock dipped below $10 for the first time in almost six years. The shares dropped another 2.3 percent Friday to $9.48.
Canceling the Focus Active is the latest move in Ford's oft-evolving strategy for global passenger cars. The company had planned to move production of the Focus to Mexico, drawing rebukes from Trump leading up to the 2016 election. Last year, Ford decided to shift production to China, and this year the automaker announced it will eventually stop selling all passenger cars in the U.S. except for the Mustang.
Galhotra said Ford builds about 80 percent of the vehicles it sells in the U.S. in its home market, and another 15 percent are assembled in Canada and Mexico. Most of the remainder of its deliveries are two imports from India and Spain: the EcoSport crossover and the Transit Connect van.