Coke Craves Coffee, Buys Coffee Chain
(Bloomberg Opinion) -- Coca-Cola Co. is going outside of its comfort zone in its pursuit of a caffeine buzz.
It's not surprising, nor is it unreasonable, that Coke wants a piece of the coffee market. The company must diversify away from sugary beverages that consumers are increasingly shunning. And coffee is a rare safe haven in the food industry, a category that looks poised to continue to grow as consumers become more health-conscious.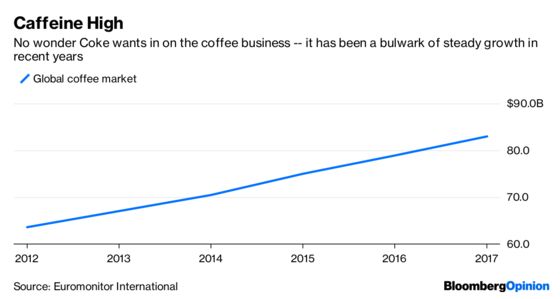 In buying Costa, Coke gets a supply chain, a roastery and a powerful (in some global markets) brand name in the coffee category. But it also gets a sprawling fleet of retail stores — and that isn't exactly the company's core competency.
Costa has some tough challenges ahead. The chain has big ambitions in China, but Starbucks has demonstrated what a bumpy ride that can be. Starbucks saw a decline in comparable sales in that important growth market in the latest quarter as it dealt with heavy pressure from new competitors offering delivery and promotions.
Even in the U.K. market Costa dominates, its sales have been crimped by inroads at the value-end of the business from the likes of McDonald's Corp., notes Bloomberg Opinion's Andrea Felsted. Some of its cafes in the U.K. could use freshening up, too, which will require some investment. 
Those problems just became Coke's problems, and it's not clear the company is well-equipped to deal with them.
What's more, this is hardly a small or cheap way for Coke to make a bet on coffee. The only time Coke has ever spent more on a deal was in 2010, when it shelled out $12.3 billion to integrate its bottling operations. That transaction also entailed significant manufacturing and distribution infrastructure and Coke has only recently concluded a multi-year effort to re-franchise the bottling operations. Costa has express vending machines in places like movie theaters. But it also has regular old coffee shops, only a portion of which are franchised, making this as much of a retail and real estate wager as a coffee bet.
Coke is paying about 16 times Costa's $312 million of Ebitda in the fiscal year ended March 1 and about 3 times its revenue over the same period. That compares with the about 14 times trailing Ebitda a JAB-led investor group paid for Keurig Green Mountain in 2016. Nestle's deal with Starbucks implied a revenue multiple of about 3.6. Bear in mind that Keurig and Starbucks have stronger name recognition than Costa and more attractive growth opportunities.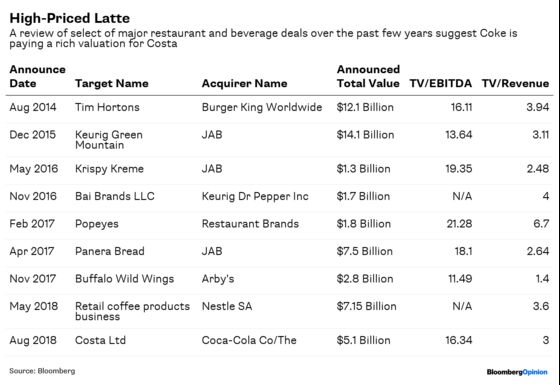 It's possible Coke will ultimately make Costa a valuable pillar of a transformed business that relies less on soda. But it just seems to us that there may be a better way to get a cup of coffee than buying the whole coffee shop. 
This column does not necessarily reflect the opinion of the editorial board or Bloomberg LP and its owners.
Sarah Halzack is a Bloomberg Opinion columnist covering the consumer and retail industries. She was previously a national retail reporter for the Washington Post.
Brooke Sutherland is a Bloomberg Opinion columnist covering deals and industrial companies. She previously wrote an M&A column for Bloomberg News.