California Is Set to Decide Whether PG&E Is 'Too Big to Fail'
(Bloomberg) -- California lawmakers are debating whether utility giant PG&E Corp. is "too big to fail."
The company -- which provides electricity and gas to 16 million people -- faces billions of dollars in liabilities from last year's wildfires, and legislators have until midnight Friday to pass a bill that would direct regulators to limit how much PG&E shareholders would pay to cover the costs.
The outcome is critical for PG&E, which may owe as much as $17.3 billion from the blazes, JPMorgan Chase & Co. estimated. The utility owner has raised the prospect of bankruptcy, and its lost more than $11 billion in market value in the last year. Nonetheless, consumer advocates contend that the bill pending before the legislature amounts to a bailout.
"This is the state acting like PG&E is too big to fail," said Mark Toney, executive director of the Utility Reform Network, a consumer advocacy group. "They want to make sure PG&E has a guaranteed backstop no matter how badly they operate."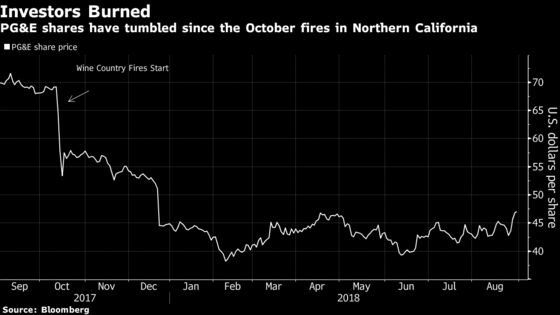 California investigators have already named PG&E power lines and other equipment as the source of 16 fires last year. In 11 of those instances, investigators said they found evidence that PG&E violated safety laws. Officials haven't released the results of a probe into the most destructive of the 2017 California wildfires, which combined destroyed thousands of homes and killed 44 people.
Some lawmakers are concerned that massive fire claims could force PG&E into financial distress or bankruptcy. That could lead to higher bills, broken renewable energy contracts and job losses, according to testimony from labor unions, utilities and power producers before a legislative committee formed by Governor Jerry Brown to address the growing threat of fires.
"Having healthy utilities financially helps ratepayers," State Senator Bill Dodd, a Democrat and co-chairman of the committee, said at a hearing this week. "This is an important premise that we all are going to have to grapple with. Otherwise, ratepayers pay more in the event of credit downgrades, bankruptcy or any of these unfortunate events."