Tandem Started 2018 Worth $26 Million. Now, It's Worth $2.3 Billion
Sell-side analysts keep bumping up their price targets for Tandem Diabetes Care Inc. , which has skyrocketed beyond all expectations. The now-$2.3 billion company has been one of the hottest stories in MedTech after entering 2018 with a market value of $26 million.
Those left behind are now rushing to initiate coverage of the Russell 2000 Index's top stock as the insulin pump manufacturer brought its devices to patients in the U.S. this year and shares boomed.
Berenberg Capital Markets's Ravi Misra is the latest to jump on the Tandem bandwagon, starting coverage today. He highlighted that the next leg of share appreciation will depend on fundamentals and company execution as it promotes its recently launched products and captures more patients. Shares are extending their summer hot streak, climbing as much as 2.6 percent.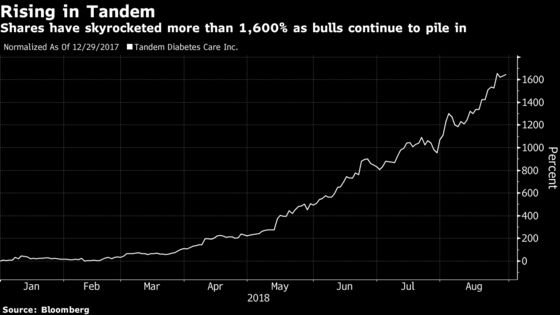 An impending product upgrade and integration of its recently launched Basal-IQ technology with its DexCom's G6 System -- on top of an entry into international markets -- should push shares higher, Misra wrote in the note.
A key for Tandem to extend its record rise is its ability to treat a greater number of the estimated 7.5 billion diabetic patients that continues to grow. Misra estimates the company currently has penetrated less than 1 percent of the total addressable diabetes market worldwide, leaving plenty of room for expansion.
While Berenberg's $50 price target implies a 22 percent increase from Wednesday's close, the firm remains far from the Street-high target set by Lake Street Capital's Brooks O'Neil. O'Neil raised his target earlier this month to $60 from $35, saying shares will trade at that level if the company can continue to grow pump unit volume by 25 percent sequentially for the next four quarters.
While it may be hitting a near-two year high, Tandem investors who bought at the peak are still cringing. Shares are down 86 percent since Jan. 2014.