Retail Cyclone Swirls as Tech Clouds Clear: Taking Stock
(Bloomberg) -- S&P futures look set to break their four-day streak of gains after the S&P 500 closed above 2900 for the first time Wednesday, in part weighed down in the overnight session when President Trump reopened a spat with China over their support for North Korea. Trade and multi-lateral discussions remain the major catalyst as we look to close out August with what U.S. and Canadian officials are optimistic will be a re-jiggered NAFTA accord.
In other trade-related developments, we could see some weakness in steel and aluminum names (X, STLD, AKS, CENX, AA) after some cracks started to show in the U.S. imposed trade barriers -- mainly "targeted relief" for South Korea, Brazil and Argentina from quotas in those commodities. Tariffs, however, will remain for the countries -- Brazil and South Korea were the U.S.'s second and third largest suppliers of steel in 2017.
Other segments to watch today include retail (again), as traders get to strap in for a wild ride in the teen segment (ANF, following AEO earnings that led to its worst intraday decline in more than a year), discounters BURL and the dollar store giants (DG beat but missed on margins, DLTR later this morning). The discounters have diverged this year -- DG up 14% and DLTR down 12%. Jewelry name Signet beat, and is up 17% pre-market (following a two-day decline as Tiffany's pop after earnings Tuesday were promptly erased through Wednesday's session). Watch and accessory makers MOV, FOSL may pare some of their steep drops seen after MOV's results flagged lower U.S. sales y/y (they had run up 53% and 209% year to date respectively ahead of the print)."
Cannabis will likely still be in play, following Wednesday's midday report that circulated just as TLRY, CGC were notching intraday highs. The stocks took a dive but hit session highs right ahead of the close. CGC and TLRY are up 79% and 171% in August alone (trading down 4% and 5% pre-market respectively).
For the broader tape, the Fed's preferred measure of inflation, core PCE data, is scheduled for 8:30am, where a debate on the street will get closer to being settled. Chairman Powell's purported dovish speech at Jackson Hole Friday lifted equities, but that thesis was promptly challenged when Goldman Sachs identified a component of the presentation that supported their case for two more rate hikes in 2018 and four next year.
Technology sector led Wednesday (when stripping Amazon.com's outsized performance from the consumer discretionary segment) as it took another step towards replacing Healthcare as the leading sector in the S&P for the third quarter (though tech still leads the S&P on the year). Nearly 3/4 of the S5INFT was higher, and had Micron shares not declined midday on the back of the $3 billion manufacturing plant expansion (dragging memory peer WDC and suppliers LRCX, AMAT with it), sentiment may have been stronger heading into today -- especially given the "highlight of the week" Salesforce.com's earnings came in as a dud. CRM weakness today may weigh on some other SaaS names (WDAY, GWRE, ADBE, ADSK), though the 3% downtick is hardly panic- inducing when lined up against its 51% gain this year.
Micron is indicated lower despite recovering some of those midday losses. Remember this was the same high flyer (before China trade issues rushed to the forefront) that added $20 billion in market value in May after lifting its forecasts. Among the 36 analysts whose ratings have been disclosed to Bloomberg, only eight have a hold rating on the stock and none say sell. The stock sits 37% below the average analyst's 12 month price target. Watch AMAT and LRCX, two suppliers exposed to Capex developments at the memory maker.
As the tail end of earnings season wraps with retailers, the curtain must be raised on another, more somber catalyst -- hurricanes. Its been just over a year since Hurricane Harvey led a fall and winter rollercoaster of weather that gave us Irma, Maria and introduced many of us to the term 'Bomb Cyclone'.
Technically the season runs from June 1 to November 30, though the peak months are widely considered August and September, the latter being the strongest. August has brought nary a whimper (save Hawaii's Lane last week), and so September will be keenly watched.
Some names:
Could be negative for insurers and reinsurers (think ALL, AIG, PGR, AHL); positive for some trucking names (WERN, CVTI, JBHT, LSTR, CHRW); and if roads are impassable, air freight (AAWW, AIRT, FWRD, RRTS, EXPD), negative for some airlines on flight cancellations (AAL, DAL, UAL, JBLU etc), positive for some recovery equipment rentals (URI, HEES, HRI) and generators/home supply (LOW, HD, GNRC, CMI). Generac, a manufacturer of generators below, is particularly susceptible to Hurricane-related demand, as detailed in their most recent earnings conference call discussing "afterglow demand" from the active 2017 season.
See another list of hurricane-exposed firms here.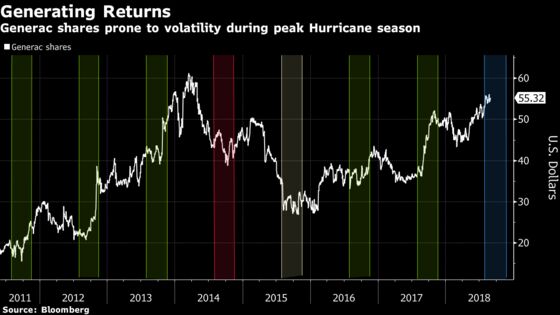 Goldman Sachs was quick to defend Salesforce.com following earnings, seeing the pullback as a buying opportunity. Analyst Heather Bellini saw the 3Q views on billings as "very conservative", while revenue contributions from the May acquisition of Mulesoft were ahead of company expectations. Bellini also touted the gross margins (and operating margin) above the Street.
Nike's biggest bull conducted a review of the secondary market and found the Jordan brand had "accelerated meaningfully". Piper's Erinn Murphy cites recent collaborations between Nike and Jordan that bring the "cool factor" and scarcity back to the brand. Sees Nike and Jordan with 66% market share in the top ten sneakers vs 51% in Q1.
Tick by Tick Guide to Today's Actionable Events
7:30am -- ANF, DLTR earnings
8:30am -- PCE, Personal Income & Spending
8:30am -- CPB, ANF, CIEN, GMS earnings calls
9:00am -- DLTR earnings call
10:00am -- DG, PDCO earnings calls
10:30am -- EIA natgas storage
3:00pm -- BOX analyst day
4:02pm -- NTNX earnings
4:03pm -- ULTA earnings
4:05pm -- LULU, AOBC, ZUO, AMBA earnings
4:15pm -- COO, YEXT earnings
4:30pm -- LULU, NTNX earnings calls
6:30pm -- PAGS earnings (roughly)
9:00pm -- China PMIs