Dental Pricing Pressures Have Patterson Plunging
(Bloomberg) -- Patterson Companies Inc. tumbled to a nine-year low after fiscal first-quarter results at the distributor to dentists and veterinarians flashed warning signs for pricing across the dental-supplies industry.
Patterson management slashed the company's 2019 earnings outlook, saying competitive pricing in its dental business is squeezing margins. The segment's results, paired with Henry Schein Inc.'s announcement for a proposed class-action settlement of dental-supplies antitrust litigation, reinforced concerns that prices are likely to remain under pressure, Evercore ISI analyst Ross Muken wrote in a research note to clients.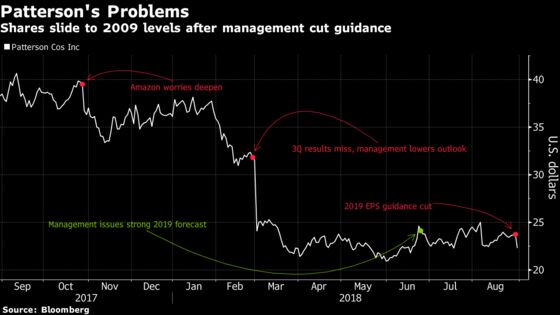 A reduced forecast was somewhat expected after Patterson set high expectations in June with its initial outlook for the fiscal year. The magnitude of the revision, however, was "somewhat surprising," Jefferies analyst Brandon Couillard wrote, noting improved trends for the quarter ended July 28. Adjusted margins for the St. Paul, Minnesota-based company's dental segment fell an "eye-watering" 420 basis points, he said.
The stock's short interest compared with peers remains elevated, with more than 20 percent of shares available for trading sold short, according to financial analytics firm S3 Partners.
Patterson shares trimmed an earlier 15 percent drop, falling 4.7 percent to $22.61 as of 11:26 a.m. in New York. Melville, New York-based Henry Schein dropped 4.3 percent to $77.60 while Dentsply Sirona Inc. of York, Pennsylvania, reversed an opening decline to advance 0.8 percent to $39.88. Dentsply shares, down almost 40 percent year-to-date, remain the worst performer in the S&P 500 Health Care Index.
The latest let-down for investors adds to concerns that have mounted for the struggling sector since speculation circulated last year that Amazon.com Inc.'s health-care aspirations could disrupt the dental distribution market.