McCain's Death Takes Away a Fighter for 'Warriors and Taxpayers'
(Bloomberg) -- John McCain's legacy touched everything from campaign finance to foreign policy, but it was inside the Pentagon and the defense industry that his often biting criticism of weapons costs and performance left generals and seasoned executives stammering for answers.
Whether scrutinizing Lockheed Martin Corp.'s F-35 jet or throwing hurdles in front of Boeing Co.'s $17 billion plan 15 years ago to lease cargo planes to the government -- a proposal that was eventually killed -- McCain could be a formidable opponent.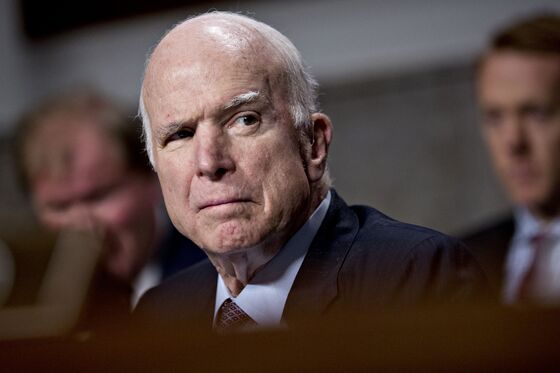 "Getting ready to testify before Senator McCain was not for the faint of heart," former Air Force Secretary Deborah James said in an email. "You had to be prepared, concise and with no excuses. He could be abrupt."
The Arizona Republican, who died at age 81 over the weekend after a battle with brain cancer, will be remembered in a memorial service at the North Phoenix Baptist Church on Thursday. His body will lie in state Friday at the Capitol in Washington before a service at the National Cathedral on Saturday where he will be eulogized by former Presidents George W. Bush and Barack Obama. He'll be buried at the U.S. Naval Academy in Maryland on Sunday.
McCain's death does more than silence a rare and prominent Republican voice who often spoke out against President Donald Trump's policies. It also leaves a void at the often too-cozy nexus of Congress, the Pentagon and the defense industry that was filled for decades by McCain, a third-generation Navy officer who spent five years as a prisoner of war in Vietnam.
John McCain: His Legacy in Pictures
In one of his well-honed attacks from the Senate floor, McCain criticized the revolving door between industry and the Defense Department in 2011. Elaborating on the "military-industrial complex" condemned by former President Dwight D. Eisenhower, McCain decried the "military-industrial-congressional complex" fueled by legislative funding earmarks that he called the new "currency of corruption."
That triumvirate "has kept even some of the most poorly performing programs funded -- siphoning-off precious resources even while they go over-budget, face years of schedule delays and fail to deliver promised capability to the warfighter," McCain said.
But McCain also consistently championed increased military spending and expensive next-generation weaponry, highlighted by his colleagues' decision to name the $717 billion defense authorization bill for fiscal year 2019 in his honor. Few defense experts see any single lawmaker being able to fill his dual roles as advocate and critic after McCain's death.
"He was interested in two constituencies -- warriors and taxpayers and finding an appropriate balance between the two and holding 'us,' as the acquisition community," accountable, Shay Assad, the Pentagon's director of defense pricing and contracting, told an industry group Monday. "He had a lasting impact on our acquisition community."
With McCain's death, Senator James Inhofe of Oklahoma is now the top Republican on the Armed Services Committee. It's not clear whether he'll push as hard on defense oversight, a role that traditionally falls to the chairman or ranking minority member.
"I don't expect a change in ideology" because "both Inhofe and McCain have been strong hawks," said Mark Cancian, a defense budget analyst at the Center for Strategic and International Studies. "There may be a change in tone. McCain was willing to harshly criticize the Pentagon when he thought they were wrong."
McCain's death drew condolence notes from the chief executive officers of Boeing and Lockheed, the two biggest defense contractors.
"He rightfully held all of us in the national security industry to the toughest and most demanding standards," Marillyn Hewson, Lockheed's CEO, said on Twitter on Aug. 26. Boeing's CEO, Dennis Muilenburg, called him a "tireless advocate for our men and women in uniform."
That doesn't mean their companies' relationship with McCain was always easy.
As chairman of the Senate Commerce, Science and Transportation Committee in early September 2003, McCain released scores of emails between Boeing executives and the Air Force on negotiations that led to a $17.2 billion agreement to lease planes to the Pentagon. The deal was put on hold and eventually canceled -- and two company officials went to prison.
With a budget bigger than the gross domestic product of some nations, the Pentagon has always struggled with waste, fraud and abuse. The biggest overhaul McCain pushed was the 2009 Weapons Systems Acquisition Reform Act, cosponsored with the Armed Services panel's Democratic Chairman Carl Levin, which created several offices designed to provide the secretary of defense with independent cost analysis of new programs.
"He was committed to stopping contracting abuses and drawing attention to troubled acquisition programs," Cristina Chaplain, a Government Accountability Office acquisition director, said in an email. As Armed Services chairman starting in 2015, she said, McCain also focused on "incentivizing innovation, increasing accountability" and "streamlining the acquisition process."
The former Navy aviator was unsparing of his old service, exposing massive cost overruns on the first of the new Ford-class aircraft carriers, the costliest warship ever, and sharply criticizing the lightly armed Littoral Combat Ship. When a Pentagon official confessed at a hearing that he hadn't read a critical report on the ship, McCain snapped, "Wow! I'm stunned that you haven't. This again makes me wonder about your qualifications because the one thing we are plagued with is significant cost overruns and lack of capability."
His constant pressure helped prompt the Pentagon and Navy to curtail the LCS at 32 ships and open a competition for a better-armed frigate. He also was instrumental in congressional passage of cost caps for the first two carriers.
After Russia annexed Crimea in 2014, McCain pushed the Pentagon to accelerate efforts to find an alternative to the Russian-made RD-180 engines used to propel military space rockets built by United Launch Alliance, a joint venture of Boeing and Lockheed.
He also helped open the market for military space launches to Elon Musk's SpaceX and others by pressing the Defense Department to hold competition for launches that had long been awarded without bidding to the Boeing-Lockheed team Musk called a monopoly.
"McCain's advocacy of DoD acquisition reform to lower barriers to entry" for traditionally non-defense firms "and accelerate technology adoption by DoD may be his most recent and important legacy," said Byron Callan, defense analyst at Capital Alpha Partners.
As chairman of Armed Services, McCain frequently inserted provisions in annual defense authorization bills restricting funds for programs until information on accountability and corrective actions was provided to Congress.
The fiscal 2016 defense policy bill contained restrictions requiring full-ship shock trials on the $13 billion USS Gerald R. Ford aircraft carrier -- a move that prevailed despite the Navy's opposition. In the fiscal 2017 bill, McCain pushed a provision withholding $1 billion in F-35 spending until the Air Force secretary certified jets delivered to the service this year had fully capable software.
This year's defense policy bill included a requirement for the Defense Department's Cost Assessment and Program Evaluation office -- created under the 2009 acquisition overhaul -- to evaluate a Pentagon claim of $1.2 billion in purported savings from buying F-35 parts and equipment in bulk. The independent analysis found the benefit is likely to be half that.
Yet for all the praise of McCain's oversight, the Senate Armed Services Committee under his leadership made few cuts to major programs, such as ships or the F-35, which continues to struggle with production delays. Nor did it withhold approval of Pentagon nominees, such as current deputy Patrick Shanahan or policy chief John Rood, who had ties, respectively, to Boeing and Lockheed.
"While McCain is a hero, I'm not sure his legacy on acquisition is very clear-cut," said Andrew Hunter, a former legislative aide, Pentagon acquisition analyst and now a scholar at CSIS. "He certainly made sure that programs experiencing cost overruns would feel discomfort before the SASC for their poor performance, which had an impact, but one that is hard to quantify."
Among McCain's biggest defeats was his effort to make public the contract value of Northrop Grumman Corp.'s B-21 bomber contract, including fees the company could earn. In May 2016, the committee voted 19-7 behind close doors against adding language requiring the disclosure to the fiscal 2017 defense bill.
Even his opponents concede that McCain could be relentless. And when legislative tools weren't available to him, McCain was adept at making his points in hallway chats with reporters -- if they were fast enough to nab him after a hearing. He also was adept at firing off pointed letters to Pentagon leaders that drew coverage.
"If Ted Kennedy was the 'Lion of the Senate,' then John McCain is the 'Lion of National Security,' " Mackenzie Eaglen, a defense analyst for the American Enterprise Institute, said in an email. "Members deferred to him as a genuine expert and trusted his wisdom on identifying the right solutions."