Argentina Peso Tumbles Ahead of Crucial IMF Verdict
(Bloomberg) -- The International Monetary Fund said it will consider Argentina's request to speed up disbursements from a $50 billion credit line as the government seeks to restore investor confidence.
The IMF responded about nine hours after President Mauricio Macri surprised the nation by saying in a televised speech that Argentina needed the money to demonstrate it had enough cash on hand to fund the 2019 budget without going further into debt. His statement, which suggested the IMF had signed off but carried few details, was meant to reassure investors. Instead, it sparked confusion among traders who have complained about poor communication and disjointed plans. The peso fell 4.8 percent on Thursday to a fresh record low.
Macri's government has struggled in the past five months to convey a viable strategy to shore up the economy, cut budget and current-account deficits, and tame inflation running at more than 30 percent a year.
While analysts have praised moves such as obtaining the IMF credit line in June and raising interest rates to the highest in the world, there's also lingering suspicion that officials lack the political will to make the spending cuts and tax increases necessary to tame inflation and restore growth.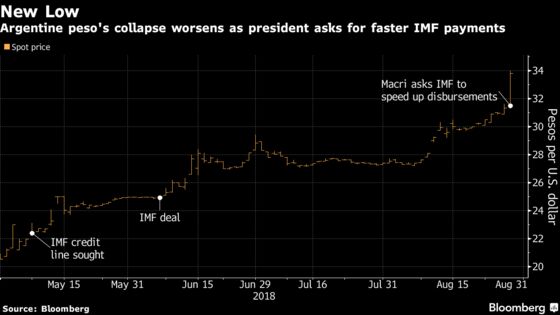 "What happened today with Macri's IMF announcement is a very good example of how things that were supposed to help can backfire quickly if investors sense desperation from policy makers," said Tania Escobedo Jacob, a strategist at RBC Capital Markets.
The IMF said it will review the timing for doling out the remaining funds from the loan and collaborate with Argentina on a plan bolster the economy.
"The authorities will be working to revise the government's economic plan with a focus on better insulating Argentina from the recent shifts in global financial markets," Christine Lagarde, the IMF's managing director, said in a statement Wednesday evening.
Argentine officials had wagered that obtaining the IMF credit line in June would calm nerves and buy Macri's almost three-year-old government some time to right the ship. Still, the currency selloff has continued -- it's now down 45 percent this year -- threatening to push inflation even higher and throttle growth.
The peso is unlikely to change its basic trend and even if the IMF decides to speed up disbursements, the nation's economic fundamentals remain poor, said Tsutomu Soma, general manager for fixed-income trading at SBI Securities Co. in Tokyo.
While the government said in a July presentation that its net financing needs for 2019 were $8 billion, some Wall Street economists say the actual number may be as high as $20 billion, depending on debt rollovers. Treasury Minister Nicolas Dujovne told reporters Wednesday evening that the government is working on a plan to chop its fiscal deficit so that it can reduce borrowing.
The extra yield investors demand to hold Argentine bonds instead of U.S. Treasuries, a key gauge of investor sentiment, jumped to 725 basis points Wednesday and has more than doubled this year, according to a JPMorgan Chase & Co. index. The cost to insure the country's bonds against default surged to a record. The price of Argentina's century bond slipped 1.6 cent to a record low 70.65 cents on the dollar on Thursday.
"People are losing faith that Macri can navigate these turbulent waters," said Jorge Mariscal, the chief investment officer for emerging markets at UBS Wealth Management. "I think for the most part he's doing the right thing. He just needs to learn how to communicate better."
The government has already used many of the conventional tools available to try to restore faith. It raised interest rates to a global high of 45 percent in August. It changed leadership at the central bank, which intervenes in the peso regularly, raised reserve requirements for banks and rolled out a strategy to reduce short-term debt maturities. Macri also froze several infrastructure projects to meet the IMF's fiscal demands.
Cabinet Chief Marcos Pena said Thursday that he expects an agreement with the IMF in a few weeks and that Macri had announced a "political" understanding with the fund.
Gerardo Zamorano, an investment director at Brandes Investment Partners who co-manages $6.5 billion of emerging-market assets, says investors likened Macri's televised address to a call earlier this month in which Turkish policy makers disappointed traders by failing to announce concrete steps for resolving its currency crisis.
"On the positive side there's broad agreement that the Macri approach is the right one -- raising rates, going to the IMF -- unlike other countries who prefer to take unique approaches," Zamorano said. "In this case the market is very impatient."
Some analysts saw reasons to be hopeful Wednesday. The silver lining to the peso's collapse is that Argentina's trade balance will turn sharply positive in 2019 as exports grow and imports slow down, according to XP Securities. Bulltick LLC strategist Kathryn Rooney Vera said Argentine assets were a buy after the selloff.
But others remain wary. Argentina won't necessarily default, said Alberto Ramos, Goldman Sachs's chief economist for Latin America, but risks will rise if things don't improve.
Escobedo Jacob says Argentina remains in the crosshairs of investors concerned that a rising dollar and steeper global interest rates will further imperil the country.
"The fundamental story remains weak and leaves Argentine assets among the most vulnerable to drifts in risk appetite and global financial conditions," she said.