How India's Debt Recovery Is Spurring Record M&A
(Bloomberg) -- India's banks have stepped up a drive to sell the assets of companies that can't repay their debts. A deadline set by the central bank to restructure an estimated 3.6 trillion rupees ($51 billion) of stressed loans expired on Aug. 27, driving at least a dozen companies into bankruptcy proceedings. Many of the other indebted companies are finding buyers, adding to already record levels of mergers and acquisitions in Asia's third-largest economy this year. Purchasers of stressed assets have included ArcelorMittal, the world's biggest steelmaker, billionaire Anil Agarwal's giant Vedanta Resources and Tata Group, the South Asian nation's largest conglomerate.
India has the worst bad-loan ratio after Italy among the world's 20 largest economies, with state-run banks responsible for nearly 90 percent of the $210 billion in loans where payments are in arrears. For Prime Minister Narendra Modi, getting rid of the soured debt is crucial to reviving Asia's third-largest economy and meeting his election pledge of adding millions of jobs before his party seeks re-election in 2019. His government's separate plan to inject 2.1 trillion rupees into state-owned banks should give the lenders sufficient capital to write off bad loans weighing down their balance sheets.
2. What does the bankruptcy law have to do with this?
The Insolvency and Bankruptcy Code, India's first consolidated bankruptcy law, was passed in 2016, overwriting a patchwork of laws that in some cases dated back a century. One of Parliament's primary aims was to give state banks a tool to resolve the growing problem of bad debts. Among other steps, the law created a new class of insolvency professionals to help steer the liquidation process.
3. What made India overhaul the bankruptcy law?
The inability to shut loss-making companies and collect on dues had locked up funds at banks and damped lending and investment. Indian insolvencies took longer to resolve than in any other major economy; only in Brazil did creditors typically recover less. Overall, India was No. 103 in the World Bank's 2017 ranking of how nations handle insolvencies, just behind Nicaragua.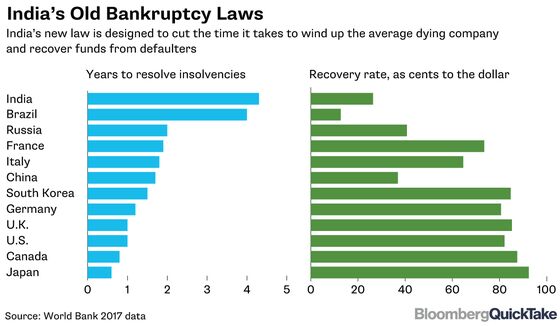 4. Why does India have so many bad debts?
Most of the companies that found themselves in a hole were hobbled by loans taken in 2007-08, which became difficult to service as demand cooled. Some borrowers found it even harder to repay when the government tightened various regulations, the courts canceled coal mining licenses and gas supplies dwindled, real-estate prices fell and interest rates rose. Making matters worse, there was long a belief among some Indian executives that they could walk away from their debts without facing consequences.
5. What else is happening?
The Reserve Bank of India last year pushed lenders to take about 40 large defaulters to bankruptcy court. Then this February, the regulator laid out stringent new rules for resolving the loans of companies that missed payments by even a single day, allowing 180 days for a restructuring. Delinquent loans that can't be resolved must then be taken to insolvency court within 15 days. More than $50 billion in loans that were already in default when the rules came into force ran out of time on Aug. 27, leading to a rush of deal-making -- and bankruptcy pleas.
6. Who has been hardest hit?
The power sector. India's largest bank identified 34 stressed coal-fired projects with a combined capacity of 40 gigawatts and about 1.8 trillion rupees in dues. Their troubles began when India de-licensed private investments in thermal power generation in 2003, drawing in new money, without investing in the supporting infrastructure, such as fuel supplies, railway networks to ship coal and transmission lines. The most enduring problem though has been the financially weak distribution companies, which weren't able to buy and carry the new power generated to consumers. Plants were under-utilized and several projects stalled due to a lack of funds or difficulties in getting land and environmental approvals.
7. How does the insolvency process work?
A creditor to a company that has defaulted on its payments files an insolvency plea to the National Company Law Tribunal to recover its dues. The Tribunal hears arguments. If it is satisfied that the dues cannot be paid, it suspends the defaulting company's board, determines the amount of claims to be recovered and appoints an independent insolvency resolution professional. That professional invites restructuring plans from bidders, who can submit their bids within 180 days, extendable by another 90 days. If the submitted plans are not approved by the majority of creditors, the Tribunal declares the company bankrupt and starts the process for liquidation of assets.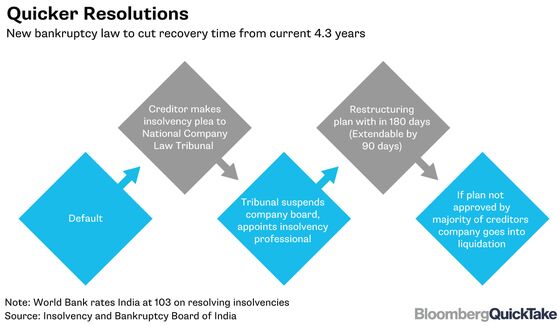 8. Which industries are seeing successful resolutions?
The steel sector has been the biggest success so far in the bankruptcy resolution process. In May, Tata Steel Ltd. bought Bhushan Steel Ltd. for about 364 billion rupees, paying about 63 percent of the 560 billion rupees claimed by creditors. Billionaire Agarwal bought the assets of Electrosteel Steels Ltd., while the country's top mill JSW Steel Ltd. and partner Aion Capital Partners purchased Monnet Ispat & Energy Ltd.