Dollar Stores May Not Be Able to Get Away Without E-Commerce Much Longer
(Bloomberg) -- All of a sudden, big box stores are beating out their bargain bin brethren.
Walmart Inc. and Target Corp. are reporting comparable sales at higher rates than the dollar stores, according to Quo Vadis Capital's John Zolidis. Part of the pain? The dollar outlets have no strong e-commerce presence, which now "looks like a liability."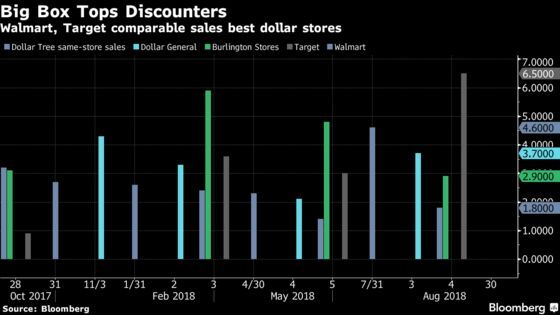 Target's quarterly results reflected comparable digital sales growth of 41 percent, while Walmart reported a 40 percent year-over-year increase in e-commerce sales. Growth in online revenue is definitely a factor, Zolidis wrote in a note to clients. It's a channel the dollar stores are lacking.
In addition to the underperformance of comparable sales versus their big-box competitors, Dollar Tree Inc. and Dollar General Corp. reported quarterly results that were "underwhelming, but for different reasons," according to Zolidis.
Dollar General's forecast implies that margins "will be worse than previously anticipated" and revenue guidance may be aggressive. At Dollar Tree, namesake comparable sales "were fine, but not better than expected," and its Family Dollar brand sales continue to disappoint. Both brands saw profitability erode.
Elsewhere on the Street, the Dollar Tree story appears to be more of a concern than the Dollar General narrative, mainly focused on the continued underperformance of the Family Dollar banner, which Dollar Tree acquired in 2015. Since then, Dollar General's share performance has doubled that of Dollar Tree.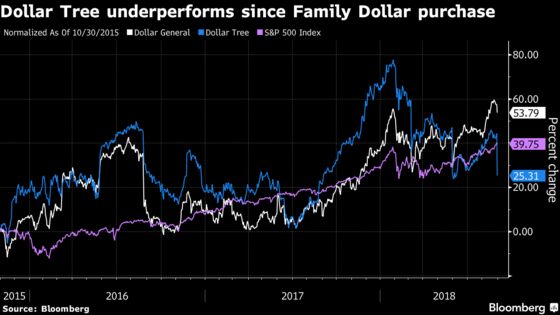 Loop Capital analyst Anthony Chukumba believes the Family Dollar drag may result in investor pressure to divest the chain, according to a note. Chukumba has a buy rating on Dollar Tree, with a $120 price target.
Dollar Tree shares are down as much as 12 percent this morning, with Dollar General off by as much as 2.2 percent. Discounters Big Lots Inc. and Five Below Inc. are both trading lower in sympathy ahead of their quarterly reports Aug. 31 and Sept. 6, respectively.