Campbell May Face Proxy War After Sale of International Unit
(Bloomberg) -- The waiting game has begun for Campbell Soup Co.
The struggling soup company, under pressure from activist investor Dan Loeb to put itself up for sale, laid out plans to transform its portfolio of brands on Thursday, including the divestiture of its international unit and fresh-food business. The company, which interim Chief Executive Keith McLoughlin said had lost its focus, will also further cut costs and pay down debt.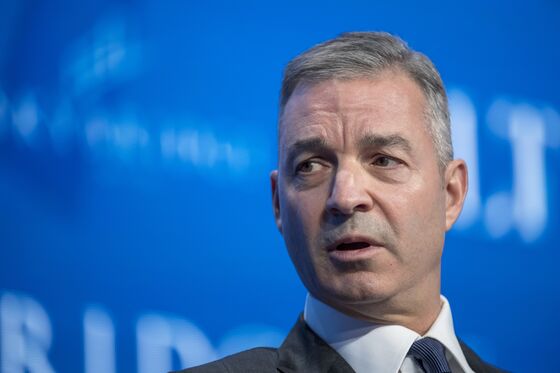 Now, the question is whether this strategy will be enough to avoid a proxy fight with Loeb, who earlier this month said that "the only justifiable outcome of the strategic review is for the issuer to be sold to a strategic buyer." When contacted by Bloomberg News, Loeb declined to comment.
The 150-year-old packaged-food company has historically been considered a tricky takeover target, with about 41 percent of the shares held by descendants of John Dorrance, a longtime company executive in the early 20th century who is credited with inventing condensed soup. That could make it difficult for Loeb to rally the votes he needs to go after seats on the board, said Michael Halen, an analyst at Bloomberg Intelligence.
"These stocks aren't hedge fund hotels -- usually in packaged food it's a longer-term investor," he said.
Related: After $110 Billion in M&A, Big Food Companies Gear Up for More
Campbell has struggled with declining sales as consumers looking for less-processed products turn away from its namesake soup. A push to add healthier brands to its portfolio had been hampered by operational issues. The company's management team, which is searching for a permanent CEO, faces pressure to prove it can ignite growth, but the asset-sale plan may buy it time with some investors.
Loeb may be tough sell, however. He criticized the company's "disastrous" results in the fiscal third quarter and the board's "abysmal oversight," which he concluded had "permitted management missteps, dismal operating performance, and a series of ill-advised acquisitions to take an irreversible toll."
Third Point, Loeb's hedge fund, started building up its stake in Campbell after Morrison left in May. It partnered with fellow investor George Strawbridge to push for a sale of the company. They collectively hold about 8.4 percent of the soup maker, and the deadline to nominate board members is next month. Strawbridge did not reply to a request for a comment.
Loeb's disputes over companies' strategies have not always turned into a full-blown proxy fight, and Third Point often works behind the scenes to enact changes. In the other cases, like with Nestle SA, the firm has criticized the company for what it calls a "muddled strategic approach," but it has yet to put forth a slate of board nominees.
Third Point, which last year disclosed a $3.5 billion stake in Nestle, first issued a letter in June 2017 about its concerns regarding the Swiss consumer giant. The New York hedge fund urged Nestle to consider selling its stake in cosmetic maker, L'Oreal SA, and to split the company into three units to spur growth.
After talks with the company, Third Point issued another public letter in July, arguing Nestle wasn't showing the necessary urgency to improve its performance, and reiterating its calls for a shakeup. It stopped short of saying whether it would nominate directors if Nestle failed to act.
Like at Campbell, Third Point would face an uphill battle at Nestle to win support for board representation, because the firm only owns a 1.3 percent stake in the company.
Campbell said on Thursday that it had considered a sale during a recent three-month strategic review, but instead decided to focus on selling off assets and trying to ignite growth with salty snacks and soup in its key U.S. market.
In a statement, McLoughlin said the board is open to evaluating "all strategic options to enhance value in the future."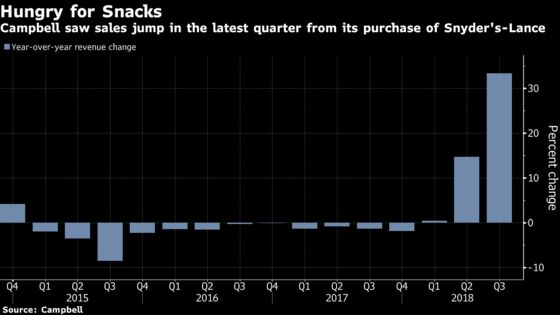 The shares fell as much as 4.5 percent in New York on Thursday, the biggest intraday slide in three months. The stock had lost 17 percent of its value this year through Wednesday.
Proceeds from the businesses up for sale, which include Bolthouse Farms and Arnott's, an Australian snack food company, would go to paying down debt. The units generated about $2.1 billion in net sales in fiscal 2018, according to the company. But shedding them could make Campbell more appealing to a buyer going forward, said Ken Shea, an analyst with Bloomberg Intelligence.
"By simplifying it, and being more focused, it makes it more attractive to a suitor down the road," he said.
Late in 2017, Campbell announced the purchase of Snyder's-Lance for about $4.9 billion, adding Cape Cod and Kettle potato chips to its snack business that already included Goldfish crackers and Pepperidge Farm cookies.
McLoughlin said on Thursday that Campbell now has six snacking "power brands," that will drive about 70 percent of growth.
"Our strategic review process has allowed the team another deep dive into Snyder's-Lance," he said on a conference call with analysts. "And we are even more convinced of the growth prospects and synergies in our Campbell Snacks business."