Billions Come and Go as Changing Tastes Whipsaw Fashion Fortunes
(Bloomberg) -- Bernard Arnault and Amancio Ortega are both major shareholders of multinational fashion businesses, and the only European citizens today with more than $50 billion to their names.
Their fortunes, though, are diverging amid growing demand for luxury goods and low growth among fast-fashion retailers.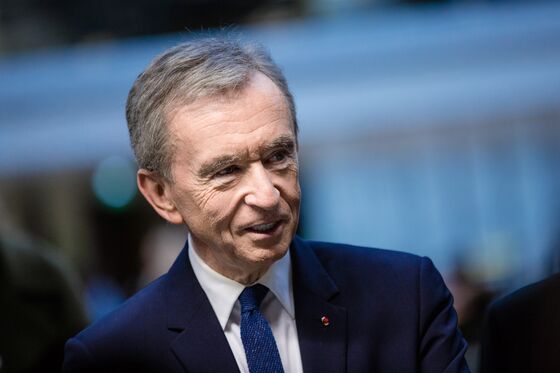 Ortega, 82, the Spanish founder of Zara-owner Inditex SA, has seen his wealth drop by more than 7 percent this year to $69.7 billion, including a $3.5 billion fall on Wednesday, according to the Bloomberg Billionaires Index.
Arnault, 69, chairman of Paris-based luxury goods-maker LVMH, is worth $79.3 billion, after a 25 percent increase in 2018, which saw him overtake Ortega as Europe's richest person.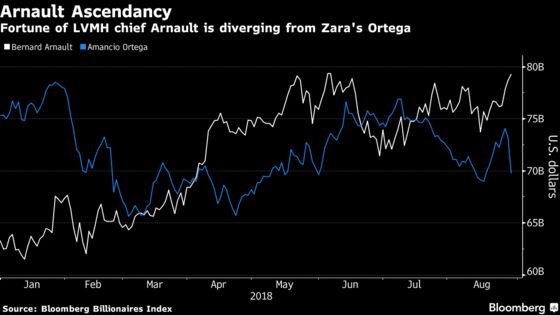 Fueled by demand from China, the luxury goods market will grow as much as 8 percent this year to 281 billion euros ($329 billion), according to a June report from Bain & Co. Fashion retailers with brick-and-mortar shops like Inditex face more competition from online rivals as consumers feel more comfortable receiving clothes at home.
"For mass-market fashion, the peak margins are in the rear-view mirror," said Charles Allen, a senior analyst with Bloomberg Intelligence. "With the luxury brands, the margins seem more resilient."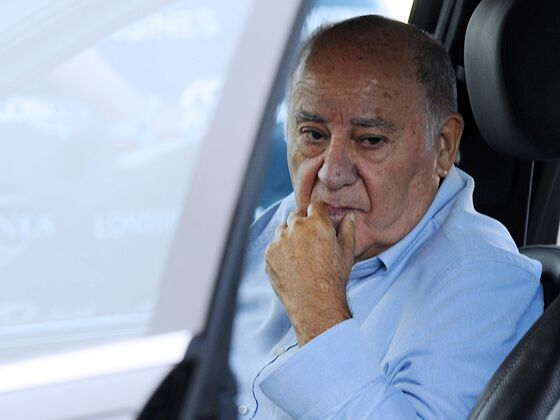 Shares of Inditex tumbled 5.7 percent Wednesday, the most in more than six months, after Morgan Stanley analysts Geoff Ruddell and Amy Curry cut their recommendation on the stock to underweight, the equivalent of sell.
"Inditex is still a world-class retailer, but its investment proposition has been weakening for some years," the analysts wrote.
Ortega controls more than half of Inditex, the world's largest clothing retailer. The Arteixo, Spain-based company went public in 2001 and has paid out dividends to Ortega since then with a total value of more than 7 billion euros, based on an analysis of company filings and data compiled by Bloomberg.
The majority of Arnault's fortune is derived from a 96.5 percent stake in Christian Dior, the luxury fashion house founded three years before the French billionaire's birth in 1949. Almost four decades later, Arnault entered the luxury goods market by acquiring a textile group that owned the business.
In addition to Arnault and Ortega, the world's fourth and fifth wealthiest people respectively, changing consumer tastes and behaviors are reordering the rankings for other billionaires.
Giorgio Armani, the founder of his eponymous Milan-based fashion house, has added 11 percent to his fortune this year.
The wealth of Stefan Persson, the largest shareholder of Inditex rival Hennes & Mauritz AB, has tumbled 25 percent to $14.6 billion, according to the Bloomberg index. Philip Green, majority owner of Arcadia Group, the U.K.'s largest closely held clothing retailer, has seen his fortune slide almost 9 percent to $2.9 billion.
"While fast fashion had a huge run obviously, luxury is really coming back," Jan-Hendrik Schlottmann, Chief Executive Officer of New York-based fashion house Derek Lam International LLC, told Bloomberg TV in May. "Young woman are much more knowledgeable about quality."