Zara Owner Tumbles as 'Great' Becomes 'Good' for Morgan Stanley
(Bloomberg) -- Sometimes good just isn't good enough.
Zara owner Inditex SA fell the most in six months Wednesday after Morgan Stanley analysts cut their recommendation to underweight from equalweight and reduced their price target for the stock to the lowest among analysts tracked by Bloomberg. Inditex dragged European retailers lower, making the sector the worst performer in the broader regional index.
"Inditex is still a world-class retailer, but its investment proposition has been weakening for some years," analysts Geoff Ruddell and Amy Curry wrote in a note to clients. "And we don't think that is properly reflected (yet) either in consensus estimates or the multiple the market is applying to them."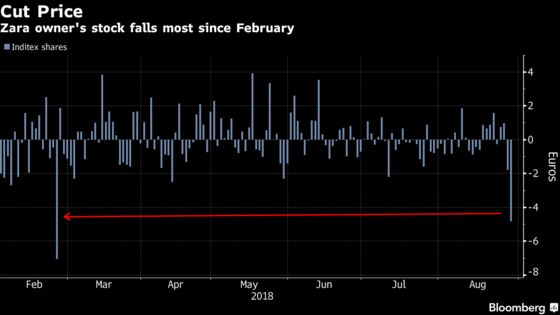 The bank cut its price target for Inditex to 21 euros, the street low, as it slapped its first ever underweight rating on the stock. Analysts have pared their 12-month targets from a consensus of 35 euros at the start of the year to 31.10 euros in August.
The Morgan Stanley analysts applauded Inditex's "fantastic" long-term performance in opening more than 6,000 stores and expanding into 63 additional countries since its 2001 initial public offering, but issues have been gradually building, they wrote in a note entitled "Going from Great to Good."
Zara's owner is increasingly mature, with new space likely to contribute less to sales growth in the future. And it won't be immune to cost pressures from online sales, Morgan Stanley said in the note. Inditex reports first-half earnings Sept 12.