Westpac First Big Australian Lender to Raise Mortgage Rates
(Bloomberg) -- Westpac Banking Corp. raised its key mortgage rate, the first of the nation's biggest banks to decide passing on higher funding costs is worth the risk of further reputational damage.
Its variable standard home-loan rate for owner occupiers will rise 14 basis points to 5.38 percent, the Sydney-based lender said in a statement Wednesday. The move reflects "a sustained increase in wholesale funding costs," the bank said.
Westpac shares extended gains after the announcement to close 2.7 percent higher -- the biggest gain in more than two months. Shares of the other big banks -- Australia & New Zealand Banking Group Ltd., Commonwealth Bank of Australia and National Australia Bank Ltd. -- also rallied on the news.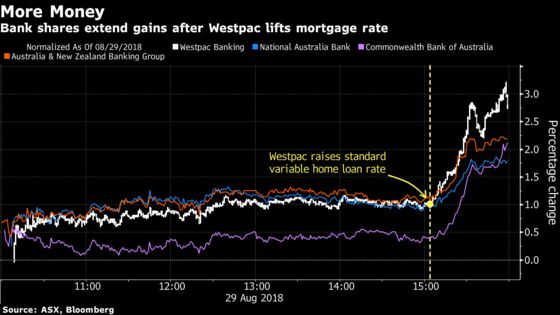 Westpac's move, and the potential the other big banks will follow, pushes the prospect of the Reserve Bank of Australia raising official rates even further into the distance. The central bank says it looks at the level of interest rates paid by households rather than its own cash rate, which has stood at a record low for two years, when deciding policy.
The Australian dollar dropped after the announcement and was down 0.4 percent to 73.04 U.S. cents as of 4:33 p.m. Sydney time. The currency had been little changed on the day before the release. The three-year government bond yield dropped 5 basis points.
Short-term domestic funding costs reached a two-year high last quarter even as the central bank held its benchmark rate at 1.5 percent. Australian banks, which are reliant on offshore borrowing to fund their loan books, are also facing higher costs overseas as the U.S. Federal Reserve raises interest rates.
"We now believe wholesale funding costs will remain high for the foreseeable future," said George Frazis, head of Westpac's consumer bank. "Given the step change in our funding costs, we have made what we believe is the appropriate decision: to balance the interests of all of our stakeholders."
Westpac said Aug. 24 its net-interest margin -- a key measure of lending profitability -- fell last quarter, sending the shares to their biggest weekly loss in more than six years.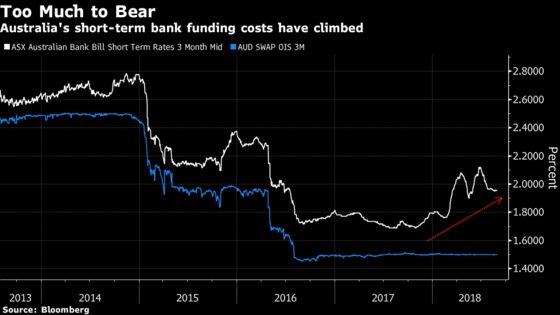 The increase in funding costs has come at an inopportune time for the big lenders, who are trying to restore their reputations in the wake of a series of scandals that led to a wide-ranging inquiry into misconduct in the financial sector, which in turn unearthed further wrongdoing. Resentment that a 2016 central bank interest rate cut wasn't fully passed on to borrowers helped stoke a sense banks were gouging customers, and fueled calls for the inquiry.
Higher mortgage rates may squeeze borrowers already struggling with stagnant wages growth and the highest levels of household debt among G-20 nations. The out-of-cycle increase could also further deflate the housing market by deterring investors, who have already been hit by lending restrictions and a 10-month drop in prices.
In other moves, Westpac raised:
Owner-occupied interest-only mortgages to 5.97%
Investor P&I loans to 5.93%
Investor interest-only loans to 6.44%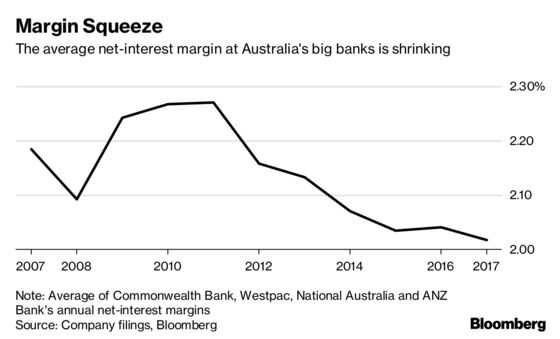 While some smaller lenders have raised mortgage rates, Westpac is the first of the big banks to do so. In addition to funding costs, margins are also under pressure from increased competition, the necessity to invest more in technology and the slowing housing market. Today's increase will add A$35 ($26) a month to the interest cost of an A$300,000 loan, Westpac said.