Federer Match Brings Out Bankers to Support NYC Tennis Lessons
(Bloomberg) -- Maurice R. Greenberg, the 93-year-old insurance legend, braved the stifling heat to attend the U.S. Open for Roger Federer and a lesser-known player he's helped bring along: Casey Brandes, who's been taking free tennis lessons with support from Greenberg's Starr Foundation.
Before Federer breezed past Yoshihito Nishioka Tuesday night in straight sets, Greenberg and Brandes, 17, appeared at a benefit for the City Parks Foundation, which runs free tennis instruction to more than 6,000 youth in more than 36 New York City parks.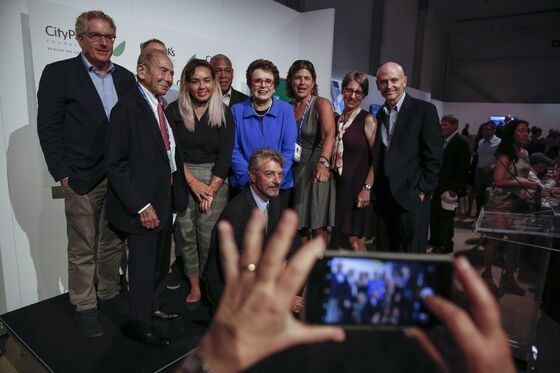 Brandes joined the program when she was 12, and now teaches tennis to younger kids. A Queens College student, she's interested in applied mathematics and music.
"I just joined for tennis skills or something, but it just turned out to be so much more than that," Brandes said. "I feel like I've grown so much as a person."
For Billie Jean King, a founder of the benefit, the program's value lies in bringing New York City youth together.
"There's no hugely dominant group," King said. "If you have 8,000 new opinions versus one or two, you just hear more things and you start to help each other learn."
BNP Paribas is the presenting sponsor of the tennis lessons. Earlier this week, Jean-Yves Fillion, who runs the French bank's U.S. unit, hosted a group of kids at the office, where they toured the firm and trading floor.
"I think the values of tennis are very similar to the values of this bank for sure," Fillion said. "Sportsmanship, self-improvement, teamwork, respecting your competitors."