FAANG Love, Reefer Madness and Parabolic Megacaps: Taking Stock
(Bloomberg) -- S&P 500 futures are flattish after quiet sessions both in Europe and China. S&P cash ticked above 2,900 on Tuesday for the first time ever, but it was a brief stay atop the whole number as we steadily erased those gains throughout the morning.
And while things were pretty sluggish throughout yesterday's session, the numbers show that the overall volumes haven't been atrocious for the dwindling days of August -- in fact, consolidated volume for Monday were higher than any other day in the prior week.
The half-Nafta pact between Mexico and the U.S. has helped on the sentiment front for stocks, but we're still waiting on participation from Canada to get the whole shebang in motion -- we have a story that moved overnight with the headline "Canadian Unity on Nafta Cracks in Latest Trudeau-Trump Showdown" that should be getting some attention.
But the bigger mover for the U.S. equities market has always been about the trade war with China, and the talk out of the Trump camp is making it seem like those negotiations have been put on the backburner. Trump himself even said yesterday that "it's just not the right time to talk right now."
And this is being echoed by some Wall Streeters, like Credit Suisse who sees a partial Nafta deal as bad news for China's strategic positioning as it'll ease pressure on the U.S. to strike an agreement in the short term. This might further cloud any optimism on the China trade front (not that there's much of that to begin with) and could possibly cap further upside in the tape (not that anything has really stood in the way of this latest melt-up).
Here's what to watch for today:
Another tailwind for the pot stocks (see chart below) after a beat from Tilray, who's shares are up ~13% pre-market. Watch Canopy Growth (CGC), Cronos (CRON), a whole host of Canadian-listed names like Aphria (APH CN) and Aurora Cannabis (ACB CN), and the ETFMG Alternative Harvest ETF (MJ) for sympathy gains
The FAANGs after Morgan Stanley lifted price targets on Amazon (+1.3%) and Alphabet (+0.7%) to become the biggest bull on Wall Street (more on this in the "Notes From the Sell Side" section below)
Retailer earnings bonanza, with Shoe Carnival (up 13% last night), Express and Movado all coming in with strong numbers on first glance. American Eagle and Chico's report shortly followed by Guess, PVH, Tilly's and At Home all tonight
A couple of hedge fund hotels taking a dive, like Box Inc taking more than 7% on disappointing gross margin forecast (Keybanc sums it up: "The lack of a meaningful guide up and EMEA challenges crack the foundation of a strong quarter") and Roku dipping on a report that Amazon may be infringing on its territory
The earnings highlight of the week is here. Salesforce.com, the cloud software giant which boasts one of the most impressively parabolic moves in all of large-cap tech (a $114 billion market cap stock that's up ~50% YTD), reports after the bell; management has been consistent, with EPS beating almost every quarter for the past decade, while shares have been rewarded, climbing 11 of the last 14 days after the print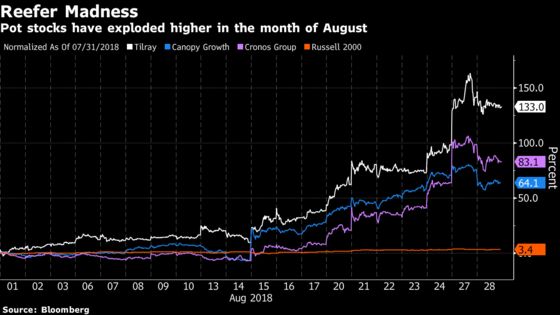 Notes From the Sell Side
Morgan Stanley's Brian Nowak is now the biggest bull on both Amazon (AMZN PT raised to $2,500 vs Street average $2,140) and Alphabet (GOOGL PT to $1,515 vs Street average $1,382):
Amazon: Sees rapidly growing, high margin revenues allowing the company to continue investing while also generating high profits; now going with a five-part SoTP valuation to establish the price target while new bull case scenario of $3,150 implies 63% upside to Tuesday's close
Alphabet: Cites continued strong core fundamentals ("still in the early innings of monetizing its seven +1b user platforms") and growing Waymo visibility (sees launch of ride-hailing service by year-end as possible catalyst for value realization); bull case of $1,800 implies 44% upside from here
On the topic of new bulls, Guggenheim is now the biggest cheerleader for Square after adding the stock to its best idea list and raising its price target to a Street high of $100 (that's more than 30 bucks above the Street average!) following a meeting with the CFO. The basis for the optimism is on Cash App's future revenue potential, which is "underappreciated" and seen providing a "key 'services' role for the underbanked."
Deutsche Bank slapped a buy on Royal Caribbean (RCL) as sentiment on the cruise stocks has appeared to have shifted more positively: "We believe investors are continuing to re-engage on cruise stocks and see the potential for more inflows for the balance of 2018 as comps get progressively tougher across lodging, retail, and Macau gaming but relatively easier for RCL."
Cowen is upgrading Kansas City Southern (KSU), the transportation stock with the most exposure to Mexico, to an outperform (new PT of $138 is just two bucks below the Street high) after the latest preliminary trade agreement. Sees shares poised to return to their pre-Trump multiple and says the railroad company remains well-positioned to benefit from Mexican energy reform and chemical growth.
Meanwhile, gold equities are getting some love from the sell side after 1) Citi lifted its rating on Barrick Gold (ABX) to a neutral, and 2) UBS upgraded Randgold (GOLD) to a buy, with both research analysts seeing gold price risks skewed to the upside.
Tick-by-Tick Guide to Today's Actionable Events
Today -- Jefferies Semiconductor, Hardware and Communications Infrastructure Summit (day two)
Today -- Seaport energy/industrials conference; presenters include APA, CAT, COG, DE, ITW, NBR, SHW, WTI
7:00am -- MBA Mortgage Applications
7:30am -- CHS earnings
7:45am -- BF/B earnings (roughly)
8:00am -- AEO earnings
8:30am -- 2Q GDP
8:30am -- CHS earnings call
8:45am -- EV earnings (roughly)
9:00am -- AEO, EXPR, MOV, DY earnings calls
10:00am -- Pending Home Sales
10:30am -- DoE oil inventories
4:05pm -- CRM, HOME, TLYS earnings
4:15pm -- PVH, GES, SMTC, GEF earnings
4:45pm -- GES earnings calls
5:00pm -- CRM earnings call