Maker of Botox Rival Soars as Treatment May Win Approval By February
(Bloomberg) -- The first new aesthetic neurotoxin to rival Allergan Plc's Botox in almost a decade may be approved in time for Valentine's Day.
Evolus Inc. Chief Executive Officer David Moatazedi says his company remains on track for a spring 2019 launch for its experimental wrinkle treatment, DWP-450. The Food and Drug Administration is now expected to make a decision on the drug by February 2 after the company failed to secure approval in May when the agency had questions on the company's chemistry, manufacturing and controls processes.
Shares in the aesthetic drug maker jumped as much as 16 percent Wednesday after languishing most of this summer. Before today, Evolus's stock had slid 47 percent from a record high in June. Some investors and analysts may have been holding out hope for a faster review and a product introduction in time for the holidays, which is a prime season for women -- and increasingly some men -- to touch up and smooth out their wrinkles.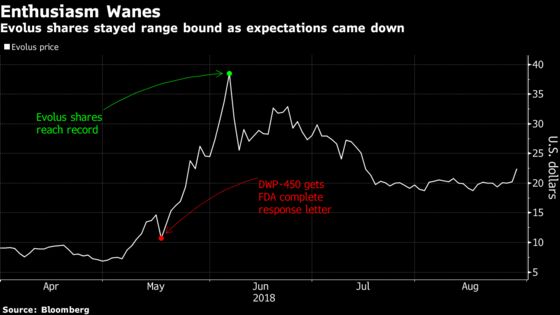 The company has been clear about its expectations for a spring launch, Moatazedi said in a phone interview. He sees the busy holiday season as the worst time to launch a new drug due to the high volume of patients, he said.
Commercial plans have been formed but not finalized and are "very aggressive," Moatazedi promises. While Moatazedi is keeping the details of his marketing strategy quiet, he says plans will be "hard hitting" and they have the backing of the doctors who have invested in Evolus.
Moatazedi, a former Allergan executive who took over leadership of Evolus in May, aims to disrupt the top three competitors which include Botox, as well as Dysport from Nestlé SA's Galderma and Merz Pharma's Xeomin. Evolus is focused on a rapid gain in market share and a sales team of more than 100 dedicated members is in the works.
Evolus plans to price DWP-450 at as much as a 25 percent discount to the top-selling cosmetic treatment.