'Goldilocks' Effect Has JPMorgan Liking Hospitals and Insurers
(Bloomberg) -- The near-term profit outlooks for medical-care providers and insurers are converging in a rare alignment that makes the stocks of both groups attractive, according to JPMorgan Chase & Co.
While patient utilization is still relatively flat in the U.S. nationally, it's been stronger in the South over the past year, where for-profit hospitals derive about 70 percent of their revenue. That's created an environment that's benefiting both insurers and facilities, said JPMorgan analyst Gary Taylor, whose coverage straddles both sectors.
"It's sort of this Goldilocks effect, where we like this for-profit hospital space in the near term, but we also like the near-term outlook for managed care because of the dichotomy between what's happening with utilization in one region versus the rest of the country," he said in a telephone interview.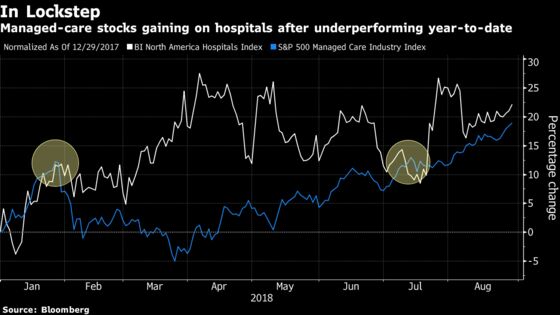 Managed-care stocks, which had slumped as much as 5 percent in March, have bounced back as M&A activity picked up and earnings continued to improve. Hospitals, which have underperformed insurers since mid-2015, staged a 22 percent rally this year.
Taylor, one of the few analysts who foresaw a rebound in hospital stocks, says a combination of factors contributed to this year's rally, including tax reform and cost-cutting measures at some facilities. Moreover, favorable comparisons to last year's sharp weakness in patient visits have boosted optimism.
"Six or seven years ago, these type of adjusted admissions numbers would have the stocks down because of how weak they were, but they're less bad than last year and that's driven some revaluation of the stocks," Taylor said.
But hospitals aren't out of the woods just yet. While easy comparisons are positioning hospitals for a beat in the third quarter, "historically weak" patient volumes remain a multi-year headwind for this industry, Taylor cautions. JPMorgan is overweight HCA Healthcare Inc. and Universal Health Services Inc., while underweight on Tenet Healthcare Corp. and Community Health Systems Inc.