Musk Made August Great Again for the Rubberneckers
(Bloomberg) -- S&P 500 futures are continuing their upward trajectory after the cash index closed at a record on Friday. European equities are slightly higher after German business confidence rose for the first time in nine months (note London stock exchange is closed today) while the Shanghai composite gained almost 2% on the central bank taking action to support the yuan.
The big talk is all about how healthcare has taken over market leadership from tech over the past couple months -- Goldman strategist David Kostin notes that hedge funds have benefited from their increased overweight on health care, which has accounted for 27% of the S&P 500's return in the past two months, while the average mutual fund is also now overweight the space.
As for the most recent leg up in the tape, which began about a week and a half ago, it's been all about Energy strength (S5ENRS up ~3.6% since the Aug. 15 close) while anything defenstive, such as the utilities and staples, has lagged. The largest individual movers, though, weren't in the energy pad, but rather in tech and retail, starting with Advanced Micro Devices +22% (see our Friday story on how the chip darling is leading all SPX members year-to-date), Autodesk +20%, Nordstrom +20%, while Lowe's, Synopsys, Tractor Supply, and Netflix all rallied ~10%.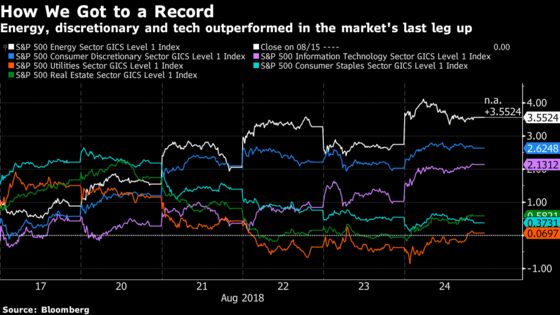 Making August Great Again
Tesla is down ~3.5% in early trading, though well off lows, after a late Friday "staying public" post from Elon Musk, just a little over two weeks removed from the ill-fated "funding secured" tweet that got the mad genius in hot water in the first place.
Bulls will say that this development removes a gargantuan overhang on the stock and we can all finally get back to talking about the shiny gorgeous cars. Bears will argue that the conversation will either a) revert back to those exact same cars, and the big fundamental concern of the massive cash burn tied to producing them, or b) evolve to one of Musk's instability as a leader and/or what may happen to the company if he's forced to vacate his position.
I, for one, will miss the self-inflicted drama that Musk brought upon his precious baby, for he made the past few weeks extremely entertaining for journalists, traders, bankers, and a boatload of rubberneckers who waited with bated breath to see how the story would unfold.
August is usually a brutal slog when it comes to newsflow and market liquidity, making it more difficult than usual to execute a large trade or to day or swing trade a ripe opportunity. But Musk's $420 tweet on August 7 and the ensuing Tesla soap opera cemented this August as a complete anomaly.
Wall Street got a wake-up call on August 7 and we all become spectators to a Twitter meltdown for the ages, amateurs taking their turns doing back-of-the-envelope buyout valuation analyses, an SEC investigation, potential class-action lawsuits by both the longs and the shorts, some buy-siders climbing their soap boxes on a seemingly every day basis to talk their book (like Gerber Kawasaki's Ross Gerber & ARK Investment's Cathie Wood), a bevy of Ambien and recreational drug references, and rapper Azealia Banks (who reportedly Insta-apologized to Musk over the weekend) and singer-songwriter Grimes becoming household names among the financial community.
Here some takes on the "staying public" twist:
The Believer: Loup Ventures' Gene Munster says one unstated reason that Tesla decided to stay public may be the collateral damage from recent media interactions of Musk and a perception from potential go private investors that he may be difficult to work with: "We still think there is work for Musk to do to rebuilt that trust in the market." Munster expects Musk to continue to lead Tesla regardless of any outcome from class action lawsuits, which may linger for a year, and while he still thinks Tesla would create more value as a private company, he sees shares as currently undervalued. He says that if he's wrong and Tesla fails to reach profitability in the next year, Apple will gain the upper hand and becomes the most likely investor or buyer followed by Google.
The Bull: Baird's Ben Kallo expects shares to be under pressure in the near term as investors question the go-private process and the ensuing outcome of staying public. He says to buy the stock on that weakness as shares will likely move higher ahead of third quarter deliveries and results.
The Bear: Cowen's Jeff Osborne sees a "series of black clouds" encircling the company, management, and potentially the board from investor lawsuits. He is hopeful that the board will bring on a more operational CEO or, at a minimum, a COO with high volume automotive experience. He also expects the company to raise $2 billion in the fourth quarter through convertible debt, though this may prove a challenge if there is still an ongoing SEC case open.
The sidelined: RBC's Joseph Spak, who rates Tesla at sector perform, says the bears have more ammo right now on near-term sentiment, expects the story to ultimately come back to the Model 3 ramp, and sees the coming 1-2 quarters as critical towards the next sustained directional move in the stock.
The restricted: The wait begins for Goldman and Morgan Stanley to resume coverage on Tesla now that the whole going private idea has been taken off the table. Goldman's David Tamberrino was at sell for a year and a half while Morgan Stanley's Adam Jonas, initially one of Tesla's biggest cheerleaders, was at equal-weight prior to the rating removals.
Here's some non-Tesla happenings since Friday's close: Trump said he has an >90% approval rating "for your all time favorite (I hope) President" within the Republican party, Trump slammed Sessions ("he doesn't understand what is happening underneath his command position"), there was another mass shooting in Florida (at a Madden tournament, of all places), America mourns John McCain (here's Michael Bloomberg's opinion piece, the NYT obit and the infamous Rolling Stone article by David Foster Wallace after spending seven days on the McCain campaign trail in 2000), El-Erian says four rate hikes aren't set in stone, Apple is tripling down on the iPhone X, WSJ talked about how trend-following is "the big hedge-fund strategy that isn't working," Barron's cover story on how the cloud will "turbocharge growth" for video game makers like EA and Activision Blizzard (and present challenges for Nvidia, Microsoft, and Sony), Barron's also detailing how Daniel Sundheim got big in the hedge fund world thanks to a 2002 takedown of a dental company on an obscure website called Value Investor's Club, NY Times poo pooing Ben Franklin's "early to bed, early to rise" quote in an article claiming that night owls might actually be the unsung geniuses of the world, Tiger tied for 40th (oof!), Hawaii dominated at the Little League World Series, and Sam Darnold may have nailed down the Jets starting QB job.
Notes From the Sell Side
Morgan Stanley sees risks "beginning to bubble up" in semiconductors with high exposure to the auto end market, like Sensata, Cypress Semi, ON Semi, following Continental's warning last week and elevated inventory; recall the broader chips group came under pressure weeks ago after Morgan Stanley downgraded the sector to a cautious rating.
Wedbush slashes Chipotle to an underperform as quarter-to-date checks suggest risk to current third quarter consensus comps growth expectation: "We see increased risk to near-term SSS growth and margin expectations, and continue to see risk to margin expectations through 2020."
Piper Jaffray boosts Ultimate Software's price target to a Street high $360 (from $320) after travels with the EVP of IR/Strategic Initiatives and ex-CFO: "Strong sales execution, strong end-market demand, and an unchanged competitive environment coupled with an expanding product and geographic footprint sets the company up well for a 20%+ revenue CAGR with improving margins."
The initiations are flowing in for two recent IPOs with name recognition, with mostly buys so far for Cushman & Wakefield (ticker CWK, the $3.8 billion market cap commercial real estate company) and a more mixed bag of ratings for Sonos (ticker SONO, the ~$2 billion market cap wireless audio products maker).
Tick-by-Tick Guide to Today's Actionable Events
Today -- OPEC+ Joint Technical Committee meeting (was delayed by a week)
8:30am -- Chicago Fed
9:00am -- PFE call on tafamidis data (possible read-through for EIDX, ALNY)
10:30am -- Dallas Fed
11:00am -- AMWD earnings call
4:15pm -- HEI, PAHC earnings
7:00pm -- BILI earnings