German Power Is the Latest Commodity to Surge Past a Key Level
(Bloomberg) -- German next-year power, a European benchmark, jumped above 50 euros ($58) per megawatt-hour for the first time since 2012 as rising fuel and carbon costs make it more expensive to generate electricity.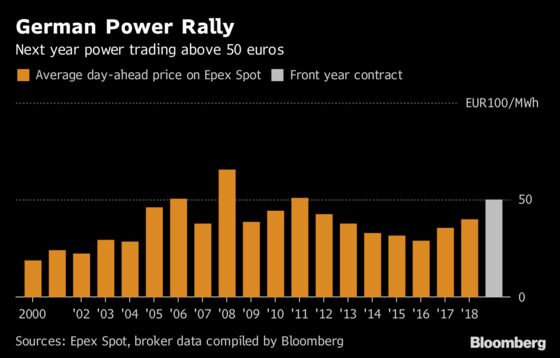 Germany meets more than half if its power demand by burning fossil fuels and the rally has been driven by rising prices for gas, coal and carbon. The surge means the average electricity price next year in Germany is now seen at the most expensive since 2011, which will put pressure on household bills and power-intensive businesses.
"There is a very strong pressure on all fronts," Ulrik Ljungars, a financial power trader at Modity AB in Sweden, said by telephone. "There is nothing to say that prices will not rise even higher this week"