Charts That Are 'Not Inspiring' Say to Sell Energy Stocks
(Bloomberg) -- The charts are saying to sell energy shares.
Cornerstone Macro Head of Technical Analysis Carter Worth is recommending an underweight on the best-performing sector in the S&P 500 over the past week and a half.
In a noted dated Monday, Worth said his call comes from analyzing the chart patterns of each of the stocks that compose the Russell 3000 Energy sector. "What we found was not inspiring," he said.
Worth also highlighted the considerable resistance for the S&P 500 Energy index at about 575, a level that has repeatedly failed after multiple tests. "Hunch is that the energy sector is headed lower, as the index has failed to make a new high since last May," he wrote. It closed Friday at 548.40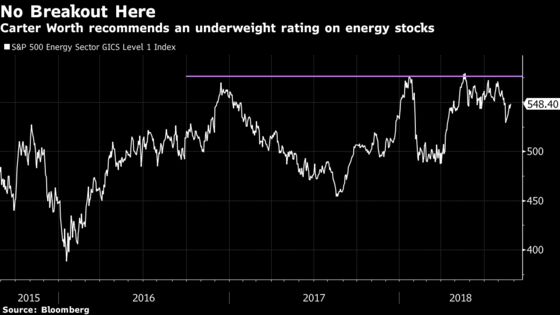 His list of top sell picks include Schlumberger Ltd., Chevron Corp., Pioneer Natural Resources Co., and U.S. Silica Holdings Inc.
The S&P 500 Energy index has climbed 3.6 percent over the past seven sessions, outperforming all other sectors as the broader index inched to a record Friday. Worth had previously recommended going overweight energy at the beginning of 2018.