Telia Content Grab in Election Runup Puts State Stake in Play
(Bloomberg) -- Telia Co. Chief Executive Officer Johan Dennelind's bold move into broadcasting in the runup to a national election in Sweden is raising the prospect of another dramatic change for the former phone monopoly: full privatization.
Contenders to form a new government after the Sept. 9 ballot must decide if Sweden should sell its 37 percent stake in Telia to avoid a conflict of interest over the carrier's plan to buy Bonnier AB's television operations for $1 billion, including private broadcaster TV4. Lawmakers across the political spectrum oppose gathering too much TV clout under the government, which already controls state broadcaster Sveriges Television.
The discussion could ultimately liberate Dennelind, whose strategy at Telia has been limited by the political concerns of a government that has pushed for a costly exit from ex-Soviet markets, where the carrier was dogged by corruption. Without the state as the largest shareholder, Dennelind and Telia's board, led by Marie Ehrling, may find it easier to pursue larger scale consolidation moves, and the carrier could even become vulnerable to takeover interest itself.
"I believe that Marie Ehrling and Johan Dennelind would like to kill two birds with one stone," said Joakim Bornold, a investment adviser at Nordnet bank. "They can get TV4, which they are very keen on, and they can get rid of the state as an owner."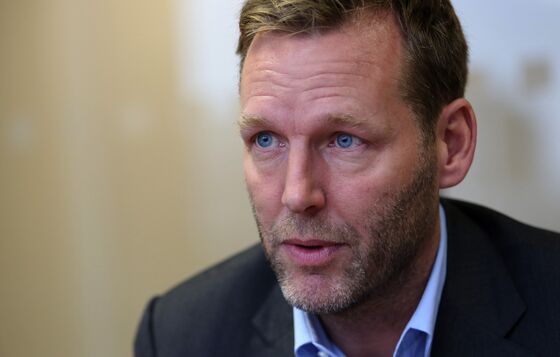 Telia agreed to buy Bonnier's television operations in Dennelind's second big purchase last month. Closely held Bonnier owns TV channels in Sweden and Finland, and if approved, the deal would make Telia both a distributor and producer of content.
Sweden's commercial broadcasters are sustaining growth in advertising revenue -- despite a persistent decline in traditional-TV viewing -- thanks to a successful push into video-streaming, according to Bloomberg Intelligence analyst Matthew Bloxham. Phone companies are increasingly adding content to become more powerful adversaries of giant digital rivals like Alphabet Inc.'s Google and Facebook Inc.
"The people who follow us closely, which our large owners do, are not and should not be surprised that we're entering into this space," Dennelind said in a Bloomberg Radio interview. "Then they should question us and ask for proof points on our equity story and value creation. That's what I'm focusing on."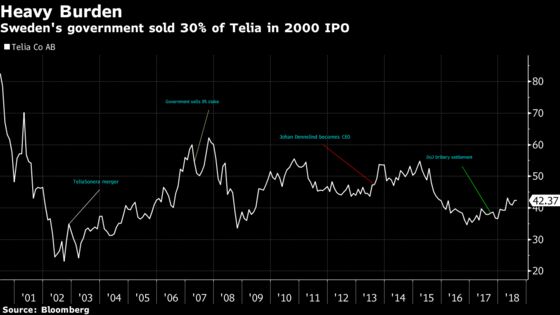 Sweden's major parties would prefer that Telia hadn't bid. The decision to approve the deal lies with European Union regulators, however, and not with local lawmakers. If it clears, Dennelind may have forced an incoming government's hand to sell its stake, worth about $7.5 billion at current market prices.
"The state shouldn't be the biggest owner, such a big owner, in the media market," Elisabeth Svantesson, the economic policy spokeswoman for the Moderates opposition party, said in an interview. "So if this deal happens, the state needs to sell its share in Telia."
The current government, led by social democrats, has qualms about the deal, and has opposed a sale on national security grounds. Telia owns copper wires that reach almost all Swedish homes and provides secure government communications. National security concerns have increased in recent years after a lull in the decade immediately following the end of the Cold War.
The country's third political force, the nationalist anti-immigrant Sweden Democrats, have opposed privatization, but Dennelind's "strange" play may have shifted the party's stance, provided the state keeps control of Telia's network, economic policy spokesman Oscar Sjostedt said in an interview.
Sweden, under a social democratic government, sold 30 percent of Telia to private investors in 2000 and listed the company on the stock exchange in Stockholm. Two years later, the company bought Finland's Sonera, which reduced the government's stake below 50 percent.
The former Moderate-led government sold 8 percent in 2007 and was on track to dilute ownership further. But by 2011, national security was back at the top of the political agenda following the 2008 Russo-Georgian War and opposition joined forces with the Sweden Democrats to halt additional sales.
In a typical election year, Telia's future would be contentious. But immigration, the state of the welfare system and the heatwave and forest fires that engulfed Sweden in July have taken center stage in the political debate.
Recent polls show that neither of the traditional political blocs will get a majority after support for the Sweden Democrats surged in the wake of the Syrian refugee crisis of 2015. The party is likely to strengthen its kingmaker position in parliament, causing protracted political uncertainty, as the other parties struggle to form a functioning government without letting them in.
Though Bonnier would represent less than 9 percent of Telia's annual revenue, the stakes are high for Dennelind and Ehrling. While it's difficult for any government to stop the deal, Bornold said the CEO and chairman are risking their jobs by making a move that is hard for politicians to stomach.
"If the state should choose to really push against this, they'll have to go," Bornold said. "That's how tough this confrontation is. They are obviously acting in direct opposition to the largest owner, so it's a conflict that needs to be solved."
Regardless of the outcome, Dennelind has his sights on completing the deal next year rather than on what will happen with the government's stake if he succeeds.
"We happen to have a large shareholder that is the Swedish state, but I will refrain from entering into the political speculations that are ongoing," he said.