Tesla Holders Brace for Market's Verdict on Musk's Brazen Pivot
(Bloomberg) -- Elon Musk's stunning tweet that he wanted to take Tesla Inc. private and had funding secured was a classic Musk moonshot -- given credibility only by the sense that if anyone could possibly pull such a brazen feat, he was the guy.
The initial scoffing after that Aug. 7 post gave way to hiring of bankers to a board meeting where, just maybe, it was ready to take shape. Then Musk aborted his own mission, when hastily assembled bankers and advisers had barely started work, according to people familiar with the matter. Musk was perhaps spooked by blow back from investors he was sure would support him, including key backers from Saudi Arabia, according to other people.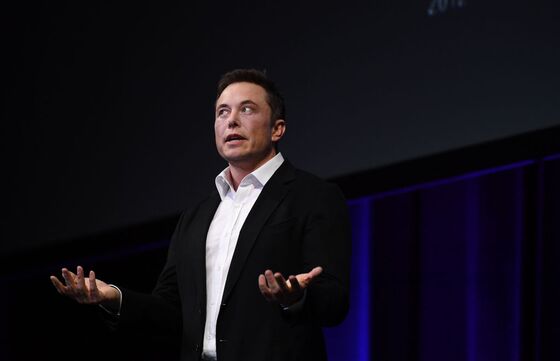 Investors now must brace for another potential wild ride when U.S. trading opens Monday, while regulators and lawyers autopsy what happened to a deal potentially valued at $82 billion and Tesla's board is left with a brilliant but exhausted and erratic chief executive officer. The shares fell 4.3 percent to $308.87 at 5:10 a.m. New York time before U.S. exchanges opened. The stock, always volatile, has traded as high as $387 and as low as $288 since Aug. 7, far short of the $420 a share cash-out price Musk pitched.
"We expect shares to be under pressure in the near term as investors question the go-private process and the outcome of staying public," Ben Kallo, an analyst at Robert W. Baird & Co., wrote in a report. Kallo recommends buying the stock, saying it will rebound to above $400 as the company shows progress in increasing output of Model 3 vehicles.
Musk, Tesla's billionaire CEO, said Friday in a blog post that most shareholders wanted Tesla to remain public. Large institutional shareholders had limits on how much they could invest in a private company, and there was no proven path for most retail investors, who are among his most ardent and adoring fans. "The sentiment, in a nutshell, was 'please don't do this,'" Musk wrote.
The unfolding story suggests Musk was sorely mistaken when he tweeted "funding secured" and later told the world "investor support is confirmed," based on his belief that Saudi Arabia's Public Investment Fund was eager to back his venture. The U.S. Securities and Exchange Commission is now investigating his tweets and blog posts, which triggered the stock gyrations throughout August.
Musk's vocal ambitions stirred unease among Saudi officials about the publicity surrounding their potential role, according to people familiar with the matter who asked not to be identified. The Saudis were unhappy about Musk detailing his talks with the Kingdom's sovereign wealth fund in an Aug. 13 blog post, where the CEO justified his earlier tweet about "funding secured" on their interest, the people said. On top of that, there were concerns about potential fallout from shareholder lawsuits and the SEC investigation, the people said.
While the Saudis were open to making a significant investment in the effort as a way to help the kingdom hedge against oil and attract technology expertise to the region, the fund mainly was interested in a minority stake to limit its exposure to a single deal and save resources for other projects, the people said.
Musk and the Saudis hadn't yet reached an agreement on the terms or structure of their participation before he pulled the plug, the people said. In addition to its interest in Tesla, the Saudi sovereign wealth fund is considering an investment in aspiring U.S. electric-car maker, Lucid Motors Inc., one of the people said.
One of the investors Musk's advisers had lined up was Volkswagen AG, the Wall Street Journal reported, citing people familiar with the matter. A representative for the German automaker declined to comment when reached by Bloomberg News.
Other investors made their concerns widely known. Cathie Wood, chief investment officer
of ARK Investment Management, published an open letter to Musk and Tesla's board Wednesday in which she stated that Tesla should remain a public company. "Thank you for the thoughtful letter," Musk responded on Twitter.
Musk had hired advisers including Goldman Sachs Group Inc. and Silver Lake as well as Morgan Stanley. Yet discussions about how a deal might proceed were still at a very early stage when he decided to call off the plan, according to people familiar with the matter. Banks had at most just a couple of weeks to assess the situation, after being brought in to advise only after Musk's initial tweet, said the people, who asked not to be identified as the details aren't public.
One of the ideas that advisers discussed involved creating a private market for Tesla shares, similar to how the stock of SpaceX, Musk's rocket company, is traded among employees and other shareholders, the people said.
Yet no decisions had been made on how to advance as the advisers were still trying to understand the funding situation and whether taking the company private was even plausible, the people said.
Musk's decision to scrap his plan still leaves many questions about where he and the electric-car maker go from here. Leaving ownership as is puts the scrutiny back on Musk's all-consuming work style, the company's tricky cash position, its ability to meet mass-market production goals, and the independence and oversight of Tesla's board.
The next measure of how Tesla bounces back may come in early October, when it will report third-quarter production and deliveries. The company has said it expects to make 50,000 to 55,000 Model 3s in the quarter, which averages to roughly 4,200 vehicles a week at the higher end of the guidance.
"Eventually this will blow over, but it's going to take at least six months," analyst Gene Munster of Loup Ventures said by phone Saturday. "This is not a situation where we can just forget about it. It's created a new layer of questions for investors. And now Tesla needs to get back to basics, which is ramping Model 3 production and profitability."
The SEC investigation and investor lawsuits related to the whipsawing stock will at minimum continue to divert management's time from operations, Joel Levington, a senior credit analyst with Bloomberg Intelligence, said in a note Saturday. Musk's exhaustion, which the CEO described in a New York Times interview, is the "most critical near-term concern."