Equity Bull Sees No Room for Emotions in Best Asian Stock Market
(Bloomberg) -- For investors looking to ride Asia's top-performing stock market in times of global stress, the Indian unit of Nippon Life Insurance Co. says it has a solution: keep emotions in check and buy a fund that dynamically spreads money among different asset classes.
"The market may remain volatile, and with uncertainties around one should tread carefully," Manish Gunwani, chief investment officer at the $34 billion Mumbai-based Reliance Nippon Asset Management Ltd., said in an interview. "A statistical model-based approach minimizes emotional bias and seems to be the best bet in the current environment."
India's S&P BSE Sensex has climbed 12 percent this year, the most among regional gauges, as domestic spending has spurred earnings and economic growth even amid an emerging-market turmoil that has made the rupee Asia's worst performer. Funds that actively fine-tune allocations between equities and debt using valuations and momentum indicators can deliver better risk-adjusted returns in times of choppy global markets, Gunwani said.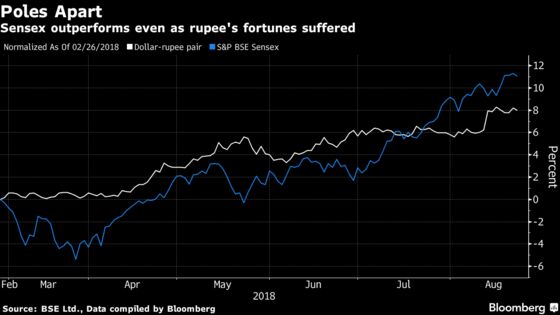 "We are witnessing opposing forces in the market,'' Gunwani said, who runs the Reliance Balanced Advantage Fund. "On one hand, we have the best economic and earnings growth in many quarters, while on the other we're facing uncertainties due to a strong dollar, trade war and crude oil prices.''
The Balanced Fund, with a mix of equity, debt and equity derivatives assets, has raised its net equity component to 57.5 percent from 42.5 percent at June-end as market momentum accelerated in the past few weeks. On the other hand, its peers have pared their net equity holdings citing expensive valuations, according to Value Research Ltd.
"Momentum indicators signal that some steam might be left in the rally even as valuations are on the expensive side,'' Gunwani said. "Valuations aren't that comfortable for us to max our equity exposure."
The fund applies a statistical model that combines one-year forward price to earnings ratio and price momentum to get the best mix, said Gunwani, who earlier introduced the hybrid investment strategy at ICICI Prudential Asset Management Co., India's top money manager. The Reliance fund is up 7.7 percent in the past 12 months, according to Value Research.
Further increases in the price of crude oil, an uncertain outcome of next year's national election, and analysts' high earnings expectations for the next two years are the biggest risks for Indian stocks, Gunwani said.
"Given that there are uncertainties around, one should tread carefully," he said. "One of the ways one can navigate this kind of market is through investing in a good asset allocation fund."