Italy Says It Won't Adhere to EU Budget as Migrants Leave Ship
(Bloomberg) -- Italy Prime Minister Giuseppe Conte says his government can't adhere to EU budget rules, while announcing that more than 100 migrants held for days aboard a coast-guard vessel at a Sicilian port will be allowed to disembark within hours.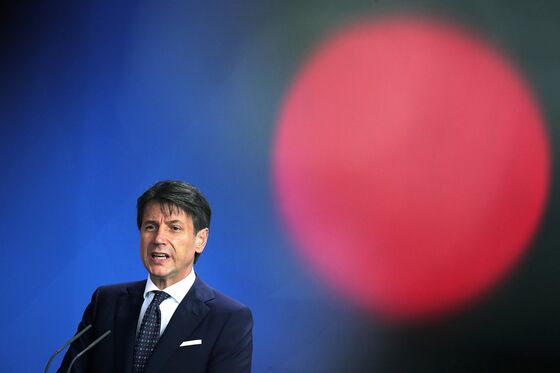 Albania and Ireland will each take in 20 migrants from the ship, the Diciotti, while the Italian Bishops Conference will take 100, Conte's office said in an emailed statement late Saturday.
The announcement came shortly after Deputy Prime Minister and Interior Minister Matteo Salvini confirmed in a speech at a party event in Pinzolo, northern Italy, that he's under formal investigation over the standoff involving the Diciotti, according to Ansa news agency.
"Italy doesn't think it's possible to adhere to an estimated budget underpinning a policy that it's so incoherent from a social standpoint," Conte said in the statement. "The spirit of solidarity is failing to translate in concrete acts."
Officials from the populist Italian government formed this year clashed with the European Union after Salvini initially said that none of the 177 migrants on the Diciotti, who were rescued from the Mediterranean Sea on Aug. 15, would be allowed to disembark until he had guarantees that other European countries would take most of them in. The ship has been docked at the port of Catania since Aug. 20.
The incident has become a social-media sensation, with dueling Twitter hashtags of "Catania Welcomes" and "I Stand With Salvini" being used widely.
As the Diciotti sat in port, representatives from EU member states met Friday in Brussels to discuss a common approach to dealing with the thousands of migrants crossing the Mediterranean, often under perilous circumstances, without reaching a deal.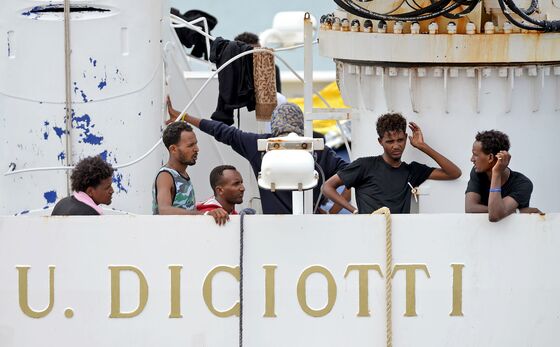 The United Nations estimates that more than 66,000 refugees and migrants have arrived by sea to Italy, Greece, Spain and Cyprus so far this year from countries that include Syria, Iraq, Guinea and Tunisia. More than 1,500 have died or gone missing along the way. The peak year for such arrivals was 2015.
"I ask for reconsideration of the billions that Italy sends to Brussels, it's time to cut financing to a useless entity," Salvini said at the party event, Ansa reported. He echoed Conte, who called the Brussels meeting "a failure for Europe."
Salvini is being probed by authorities in Agrigento, Sicily, for abuse of office, kidnapping and illegal detention, according to Ansa. He's called the investigation "a shame." His spokeswoman didn't responded to a text message seeking further comment.
In June, Salvini provoked another diplomatic incident by turning away a rescue ship with more than 600 people aboard, then swapped insults with French President Emmanuel Macron.