Congo Bars Key Opposition Figure From Presidential Election
(Bloomberg) -- The Democratic Republic of Congo disqualified one of the country's most popular opposition politicians from running for president.
The decision removes a second key opponent from the race against President Joseph Kabila's anointed successor and raises the risk of angry protests by opposition supporters. It also casts doubt on the credibility of the Dec. 23 election in the cobalt-rich nation, which hasn't had a peaceful transfer of power since it gained independence from Belgium in 1960.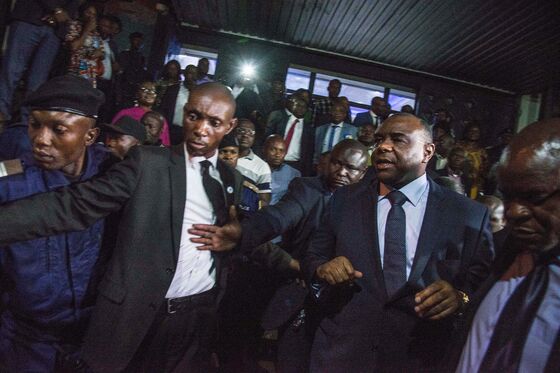 The National Independent Electoral Commission, known as CENI, barred Jean-Pierre Bemba because of his conviction by the International Criminal Court for witness-tampering. Kabila's ruling coalition said last month Congolese law precludes those found guilty of corruption from running for president.
"The move to exclude Bemba, while somewhat expected, will light the fire under the population in Bemba's heartlands," Verisk Maplecroft Africa analyst Indigo Ellis said Saturday. "Any election result now will almost certainly be considered illegitimate by large swathes of the population."
Bemba can appeal to the Constitutional Court to overturn the decision -- his party says witness-tampering doesn't constitute a crime of corruption and he is appealing that conviction. The commission will publish a final list of candidates on Sept. 19.
"We will introduce the appeal to the Constitutional Court on Monday," Michel Koyakpa, a spokesman for Bemba's party, said by phone. "The law gives 48 hours for candidates to be able to file at the court who think they've been wronged by CENI's decisions."
An opinion poll published last month by New York University's Congo Research Group found that Bemba would come third in an election with 17 percent of the vote, behind businessman-turned-politician Moise Katumbi and Felix Tshisekedi, the head of the largest opposition group.
Congolese authorities refused to allow Katumbi, a one-time Kabila ally, entry to the country when he attempted to return from two years of self-imposed exile on Aug. 3 -- five days before the deadline to register as a presidential candidate. All of the leading opposition politicians have since said they'll consider backing a single candidate in the poll.
Tshisekedi and Vital Kamerhe, who finished third in the last election in 2011, have been authorized by CENI to participate in the poll scheduled for Dec. 23.
Prior to CENI's decision, Bemba, Katumbi, Tshisekedi and four other opposition candidates on Friday accused Kabila's government of instructing the commission to exclude some candidates from the race. They demanded that Kabila "liberate the electoral process by stopping giving orders to CENI."
The ruling coalition named Emmanuel Ramazani Shadary as its candidate on the last day of registration, ending months of speculation about whether Kabila would seek to extend his 17-year rule and challenge a two-term limit imposed by the country's constitution. One of 15 Congolese politicians and military officials sanctioned in the past two years by the European Union, the 57-year-old is accused of human-rights abuses and undermining democracy.
Bemba, a vice president from 2003 to 2006, was acquitted of war crimes by the ICC in June and returned to Congo on Aug. 1 after a decade in detention. He was the presidential candidate of the Movement for the Liberation of Congo, the major opposition party he founded and then headed throughout his incarceration at The Hague.
Bemba finished second to Kabila in a presidential election in 2006 before he was arrested in Belgium two years later and then sentenced by the ICC to 18 years in prison for murders and rapes committed in the early 2000s in neighboring Central African Republic by fighters belonging to a Congolese rebel group he then led.
Six of 25 presidential aspirants were deemed inadmissible by CENI. In addition to Bemba, three prime ministers who served under Kabila -- Antoine Gizenga, Adolphe Muzito and Samy Badibanga -- were also struck off the list.
Congo, the world's largest cobalt producer and Africa's biggest copper miner, was supposed to hold elections in 2016, but CENI failed to organize them on time.