Years After Death Call by EON CEO, Carbon Is Alive and Kicking
(Bloomberg) -- Back in 2012, Europe's carbon market was becalmed a year after prices crashed by almost 50 percent, and one of the continent's top business leaders lashed against bureaucrats' mishandling of the mechanism.
Johannes Teyssen, chief executive officer at the German utility EON SE, dubbed the Emissions Trading System "a dead man walking" and "mortally ill." It was a rebuke to the bureaucrats in Brussels who he felt bungled fixing a mechanism needed to push big polluters toward cleaner forms of energy. He repeated those criticisms in the following years as the European Commission failed to send prices toward more meaningful levels and force a shift to cleaner gas over coal.
Now, after a yearlong rally quintupled prices to more than 20 euros ($23) a ton, Teyssen thinks the latest changes to the system have brought it back to life. This is some of what he had to say on Friday in emailed comments to Bloomberg:
"We must applaud the EU commission for the latest ETS reform. It has created a market perception of scarcity that we've not seen in the ETS for many years."
"The market still questions whether the stability and sustainability of this price will continue for years to come."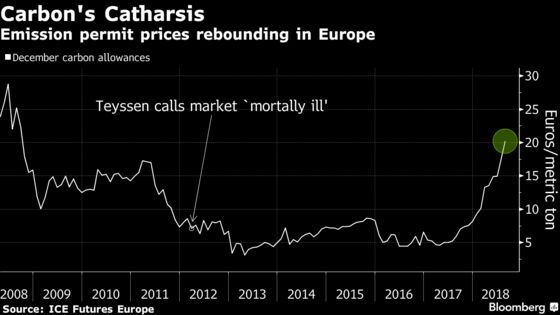 "Only when investors can bank on a stable, and appropriate, carbon price will it trigger investment in climate friendly technologies and solutions like renewables and energy efficiency."
"And, only if such a carbon price is extended – through EU or national decisions of member states – to other sectors beyond the ETS scheme, we will see the far reaching climate action we need in transport, heating and cooling and all commercial and industrial processes."
"We should charge for all carbon emissions, for all energy uses. New proceeds can be used to relieve clean power costs from tax burdens and extra costs. This could be the winning recipe we need to encourage more investments in clean or cleaner power production (renewables, gas replacing coal) and associated customer solutions like e-mobility, electric heat pumps and energy saving solutions for businesses and cities."