U.S. Business-Equipment Orders Climb by More Than Forecast
(Bloomberg) -- Orders placed with U.S. factories for business equipment accelerated by more than forecast in July, a sign solid demand extended into the second half despite corporate concerns over tariffs, Commerce Department figures showed Friday.
Highlights of Durable Goods (July)
Non-military capital-goods orders excluding aircraft rose 1.4% (est. 0.5% rise) after upwardly revised 0.6% increase in prior month; figure is proxy for business investment
Shipments of those goods, used to calculate gross domestic product, rose 0.9% (est. 0.3% increase) after upwardly revised 0.9% gain
Broader measure of bookings for all durable goods, or items meant to last at least three years, fell 1.7% (est. 1% decline) following 0.7% increase; reflects plunge in aircraft orders
Key Takeaways
Orders rose for machinery, computers and electronic products and motor vehicles and parts last month, according to the report. The data, representing the first results since the U.S. and China imposed tariffs on each other's goods in early July, signal that business investment remains intact even as President Donald Trump widens a trade war to a growing range of products from China.
Growth in business spending, which is getting a boost from lower corporate taxes, is one of the factors supporting economic growth that could reach 3 percent in the second half. Even so, the uncertainty over trade may spur companies to slow investment. The next round of proposed actions by the Trump administration against Chinese imports would place tariffs of as much as 25 percent on $200 billion in goods.
The drop in overall durable-goods orders reflects bookings for aircraft and parts, typically a volatile category. Civilian airplane orders fell 35.4 percent in July, while the military side dropped 34.6 percent. Boeing Co. previously reported that the planemaker received 30 orders in July, down from 233 in June.
The strength in business-equipment demand helped boost some estimates for third-quarter growth in gross domestic product. Barclays Plc analysts increased their tracking estimate to a 3.2 percent annualized rate from 3 percent, while Stephen Stanley of Amherst Pierpont Securities raised his projection by 0.2 percentage point to 3.5 percent. The economy expanded at a 4.1 percent pace in the second quarter, the fastest since 2014.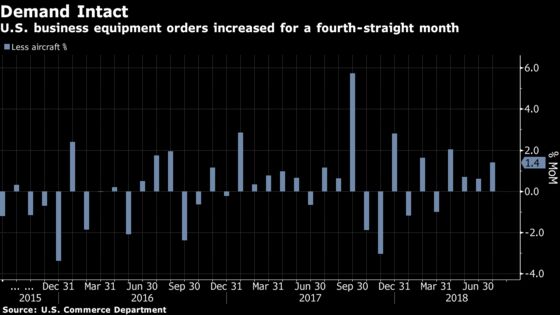 What Our Economists Say
Today's durable goods report suggests that the economy's growth composition is set to change in the second half. Consumer spending appears to be moderating while capacity constraints and still-elevated demand are likely to drive business investment. Thus far, measures of unmet demand do not appear to be increasing, easing concerns that inflationary pressures are on the horizon.

-- Tim Mahedy and Carl Riccadonna, Bloomberg Economics

Read more for the full reaction note.
Other Details

Excluding transportation equipment, durable-goods orders rose 0.2 percent (forecast 0.5 percent rise) after a downwardly revised 0.1 percent gain
Durable-goods inventories rose 1.3 percent, biggest increase since May 2011
Orders for machinery rose 0.6 percent following no change; demand for computers and electronic products jumped 1.1 percent after a 0.8 percent gain
Motor vehicle and parts orders rose 3.5 percent following 4.7 percent increase
Orders for primary metals rose 0.3 percent; fabricated-metal product orders unchanged
Defense capital-goods orders fell 8 percent following 12.9 percent drop
©2018 Bloomberg L.P.