Papa John's Jumps on Report It's Hired Bank of America, Lazard
(Bloomberg) -- Papa John's International Inc. jumped after a report the struggling pizza chain has hired Bank of America Corp. and Lazard Ltd. to help find ways to stabilize its operations.
The company, which saw sales sink last month after founder John Schnatter resigned as chairman over the use of a racial slur, rose as much as 5.5 percent following the Reuters report. Shares were trading at the highest intraday level in nearly a month.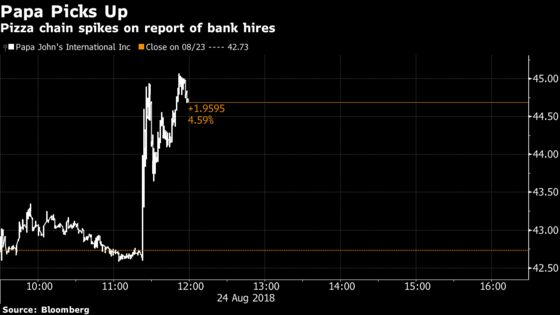 The banks are still at the early stages of discussing options, Reuters reported, citing unnamed sources. There is no sale process currently underway, though the chain has attracted some takeover interest from private equity firms and other companies, it said.
Papa John's and Bank of America didn't immediately reply to requests for comment. Lazard declined to comment.
Papa John's shares have been sensitive to market speculation in recent weeks. The stock also surged on July 18 after a report that Schnatter held talks with Wendy's Co. to merge the companies. The preliminary conversations, which occurred before Schnatter's departure, have since cooled, the Wall Street Journal said.
Schnatter took out a full-page ad in the company's hometown paper, the Courier Journal, this week to direct employees of the Louisville, Kentucky-based chain to a website he's launched, called SavePapaJohns.com, in a bid to bring in new leadership. Last month, the company's board adopted a poison pill designed to prevent Schnatter from adding to his roughly 30 percent stake in a bid to gain majority control.